Whether you love painting or you've never held a brush, taking up painting during your cancer journey can help you find peace. It can also help you honor every emotion, from the good to the bad and the ugly. Henry Ford art therapist Mallory Montgomery, MS, ATR-BC, explains the benefits of using art for expression, relaxation and healing.
Many people bury their negative emotions while fighting to survive. That's hard work. "During the physical and mental art-making process, we express the emotions we hold closest to our hearts," Mallory says. "We put those emotions on canvas or paper. Finally, we get some breathing room."
Physical changes
Playful artistic expression lowers blood pressure, anxiety and depression. Repetitive movements during painting increase relaxation and the natural healing process.
Movies or art
It's easy to watch videos or movies when we're sad or depressed. "Although movies can produce an emotional release, they can't create the same relaxing feelings as art because there's no connection between emotions and physical movement," Mallory says. "That means there's no deep improvement in a person's sense of well-being. Ultimately, art produces a reward for our efforts."
Art Therapy
Learn more about the Art Therapy at the Henry Ford Cancer Institute, including what programs are available.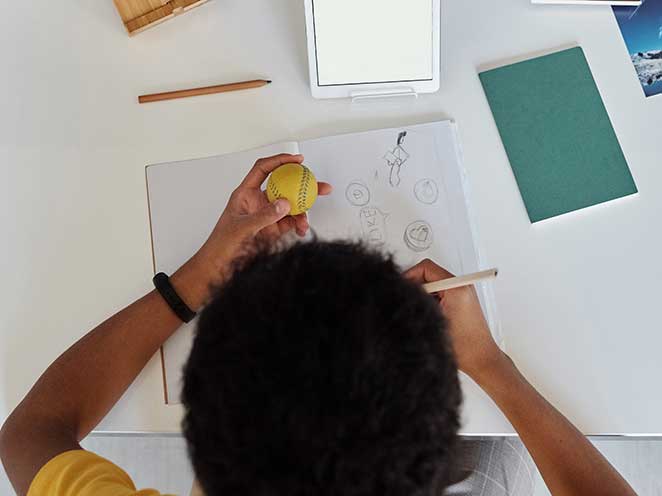 Cancer can't take everything
Mallory offers art opportunities that give people a sense of control and provide ways to maintain their identity. Art therapy is especially important for patients in palliative treatment because they need to express their feelings in a safe place.
Hopeful art
"The biggest obstacle to overcome in art therapy is hating our art and viewing it through the eyes of a professional artist," Mallory says. "That's not what art therapy is about. It's about hope and finding meaning, even in a meaningless disease."
Ready. Set. Paint.
"In art, there aren't mistakes – just happy accidents," Mallory says.
Find a quiet spot. One with light or windows is preferable.
Get supplies. Think brushes, paint sticks, paint, canvas or paper.
Get your comfy cozies. Blankets, pillows, music and snacks will set the mood.
Express your feelings by playing with color and brush strokes. Make as many marks and shapes as you can. Build confidence.
Try painting small objects or big skies, seascapes and landscapes. Paint what gives you joy – flowers, people or sunrises. Experiment with acrylic paint. Try watercolors and gently push or pull the watercolor puddles.
Expressive play can be tiring. Work in 30-minute sittings. Paint when you need to release emotions.