Otolaryngology Training Programs
At Henry Ford, we offer many nationally renowned residencies and fellowships focused on state-of-the-art technologies and patient care experiences. For residents interested in otolaryngology, we offer the following programs: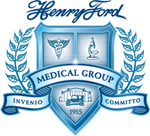 Otolaryngology - Head & Neck Surgery Residency: This nationally recognized MD training program is centered at Henry Ford Hospital but covers multiple sites throughout the Henry Ford Health. Our faculty are all members of the Henry Ford Medical Group and are committed to providing our residents complete and rigorous training in all aspects of otolaryngologic care, including all subspecialties. We are sponsored by the Wayne State University School of Medicine but not connected to the Wayne State University Department of Otolaryngology.
Otolaryngology and Facial Plastic Surgery Residency: This historically osteopathic training program sponsored by Henry Ford Macomb Hospital exposes residents to a holistic approach to medicine that focuses on the patient as a whole.