Henry Ford refractive surgeons are leaders in laser vision correction and use the latest technology.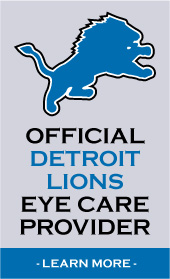 Laser vision correction, also known as laser eye surgery, refers to refractive procedures that use a laser to reshape the cornea and correct common refractive errors, including nearsightedness, farsightedness and astigmatism. Laser eye surgery can help you to reduce your dependency on glasses or contact lenses and improve your vision. There has been much advancement in this field, and Henry Ford ophthalmologists and surgeons are at the forefront.
Experts in laser eye surgery
Henry Ford is a leader in laser vision correction. We have performed tens of thousands of procedures, and we serve as the official refractive surgeons for the Detroit Lions. In addition:
Our expert surgeons will complete a thorough evaluation of your eyes and recommend the laser eye surgery we feel is safest and best for your eyes.
We offer two laser vision correction procedures, LASIK and PRK.
We offer laser vision correction at several locations throughout metro Detroit.
The latest laser vision correction technology
We use the latest technology to screen patients for laser eye surgery and offer the latest laser treatment options. Our technology suite includes:
Oculus Pentacam® eye scanner: The most advanced technology for screening laser vision correction candidates, the Pentacam eye scanner uses a rotating camera to capture precise measurements of both the front and back of the cornea, including its thickness – a key factor when determining eligibility for laser eye surgery.
WaveScan® WaveFront™ System: Before surgery, we use this advanced image-guided technology to identify the imperfections in each eye. This refractive technology takes custom, 3-D measurements to map the unique anatomy and imperfections of each eye, before transferring this information to the lasers.
IntraLase™ FS Laser System: The first step during LASIK is to create a corneal flap, which is done either through advanced microkeratome (blade) or femtosecond laser (bladeless) technology, both of which offer a high level of precision. Your Henry Ford surgeon will discuss your options during your consultation.
VISX S4 CustomVue® excimer laser: For both LASIK and PRK, your Henry Ford surgeon reshapes your cornea with this advanced laser, which provides a precise level of measurement and correction never before possible in laser vision correction.
CareCredit Financing
In an effort to make vision surgery accessible to more people, Henry Ford offers several financing options for you and your family. This includes accepting the CareCredit® credit card, which may be used to pay for laser vision correction.
For more information
You can learn more about Henry Ford laser vision correction procedures by reviewing our LASIK vs. PRK, LASIK and PRK pages, and by reading our FAQs.
At Henry Ford, patients come first.
The Henry Ford Department of Ophthalmology is committed to providing our patients with compassionate, personalized care. We feature the most advanced treatments in eye care and are dedicated to vision research – always staying at the forefront of innovation. A leader in Michigan, as well as one of the largest ophthalmology practices in the United States, we treat more than 55,000 patients per year at 12 locations throughout southeast Michigan. In addition, our team works closely with Henry Ford Medical Group physicians in other departments, providing multidisciplinary, coordinated care for those patients who need it.