A replacement lens is surgically implanted into your eye to treat cataracts or correct a refractive error.
If you are undergoing cataract surgery or refractive lens exchange, your Henry Ford ophthalmologist will discuss your individual needs and medical history with you to determine the best options. Henry Ford Ophthalmology is a leader in refractive surgery for both cataracts and presbyopia (common, age-related vision loss), and our customized approach results in outstanding patient satisfaction.
Types of replacement lenses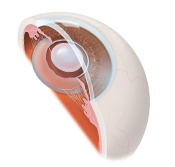 New intraocular lenses are now available that correct both near and distance vision, as well as astigmatism. Replacement lens options include:
Traditional intraocular lens (IOL): Cataract surgery has traditionally used a standard, monofocal replacement lens, which restores optimal distance vision, thus reducing your dependence on corrective lenses. You may, however, require reading glasses after surgery.
Multifocal IOLs and Accommodative IOLs: If you would like to see both near and far without relying on bifocal glasses, multifocal and accommodative intraocular lenses are available that provide the option of seeing well at more than one distance. There are several refractive replacement lenses available on the market today, including AcrySof® IQReSTOR® and Crystalens®.
Astigmatism
When the normally round cornea is shaped irregularly, like a football, it produces a natural blur called astigmatism. This condition requires glasses to see clearly. For cataract patients, the need to wear glasses will continue after traditional cataract surgery, although laser cataract surgery may help to reduce this need. Astigmatism may be treated in two ways:
Toric intraocular lenses: A toric replacement lens, such as AcrySof® IQToric, may help reduce or eliminate astigmatism, significantly improving distance vision, and offering enhanced image quality and more contrast sensitivity.
Limbal relaxing incisions: Astigmatism also may be treated through this surgical procedure, by making tiny incisions in the cornea.
Monovision
In some refractive surgery cases, your ophthalmologist may use a procedure known as monovision. This procedure helps you to see at all distances, and works by making your dominant eye responsible for focusing on objects at a distance and your non-dominant eye responsible for seeing objects that are near to you. Depending on your individual eye care needs, monovision may be applied in one of two ways:
Special contact lenses: In some cases, these may be used as a trial before having monovision surgery.
As part of refractive lens exchange or cataract surgery: If you are undergoing refractive surgery or cataract surgery, including laser cataract surgery, implantable monovision lenses may be one option.
CareCredit Financing
Traditional IOLs are often covered by insurance. However, premium replacement lenses are not considered medically necessary and the additional cost often is not paid by insurance. In an effort to make vision surgery accessible to more people, Henry Ford offers several financing options for you and your family. This includes accepting the CareCredit® credit card, which may be used to pay for replacement lenses.
At Henry Ford, patients come first.
The Henry Ford Department of Ophthalmology is committed to providing our patients with compassionate, personalized care. We feature the most advanced treatments in eye care and are dedicated to vision research – always staying at the forefront of innovation. A leader in Michigan, as well as one of the largest ophthalmology practices in the United States, we treat more than 55,000 patients per year at 12 locations throughout southeast Michigan. In addition, our team works closely with Henry Ford Medical Group physicians in other departments, providing multidisciplinary, coordinated care for those patients who need it.