Ophthalmic Imaging Center
Henry Ford uses an advanced Ophthalmic Imaging System, saving patients time and improving accuracy in diagnosis.
Thanks to the Department of Ophthalmology's Ophthalmic Imaging Center, physicians can instantly view images of their patients' eyes on their exam room computer screens – all with the simple click of a button.
Advanced ophthalmic imaging cameras
Using the center's Ophthalmic Imaging System, Certified Ophthalmic Photographers can take high-resolution photographs of the eye that are useful in diagnosing the onset and progression – as well as determining the treatment – of many eye conditions, including glaucoma, macular degeneration and diabetic retinopathy.
The system offers several advantages over previous, non-digital systems, including:
Physicians can use side-by-side ophthalmic image comparisons to help in making the most accurate diagnosis and tracking a patient's condition
The digital ophthalmic images may be enhanced on the computer screen, and even small structures can be enlarged to fill a 23-inch screen
All of the ophthalmic images are stored electronically, allowing staff members to access archived images immediately from any location
Integrated ophthalmic imaging
The Ophthalmic Imaging Center's system uses 12 unique types of cameras to photograph different parts of the eye. The platform provides physicians with clear, highly detailed ophthalmic images and allows for integration of all imaging test types, including: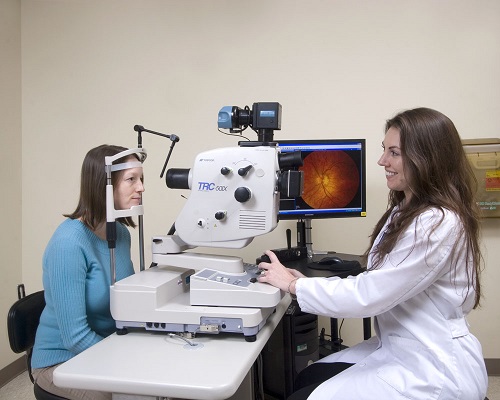 Expert ophthalmic imaging staff
Fluorescein angiography
Indocyanine green angiography
Spectral domain optical coherence tomography (OCT)
Fundus 3-D photography
Visual fields
The system is fully implemented across 12 Department of Ophthalmology locations and offers a total of 66 imaging machines and over 400 computer viewing stations. The Ophthalmic Imaging Center's certified, full-time photographers have conducted more than 250,000 imaging procedures since switching to a digital format in 2006.
Faster and more accurate ophthalmic imaging
In the past, patients needed to schedule follow-up appointments to learn their diagnosis and treatment plan. With the Ophthalmic Imaging Center's integrated system:
Ophthalmic images can be viewed instantly, saving the patient time and anxiety
Viewing the images one-on-one with the physician allows the patient to walk away with a much better understanding of their diagnosis
With the help of these ophthalmic images, a treatment plan can quickly be put in place
At Henry Ford, patients come first.
The Henry Ford Department of Ophthalmology is committed to providing our patients with compassionate, personalized care. We feature the most advanced treatments in eye care and are dedicated to vision research – always staying at the forefront of innovation. A leader in Michigan, as well as one of the largest ophthalmology practices in the United States, we treat more than 55,000 patients per year at 12 locations throughout southeast Michigan. In addition, our team works closely with Henry Ford Medical Group physicians in other departments, providing multidisciplinary, coordinated care for those patients who need it.