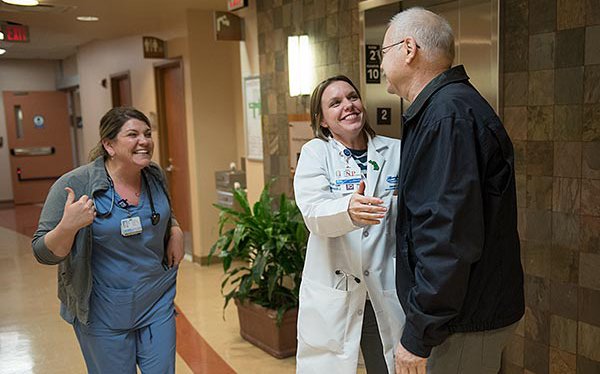 On Christmas morning 2017, Judy Runstadler of Shelby Township heard an urgent knock on her door. It was her neighbor, telling her that Judy's husband Bryan, who had gone outside to shovel snow, had collapsed in their driveway.
An ambulance rushed Bryan, 62, to Henry Ford Macomb Hospital. He arrived in critical condition, having suffered a massive heart attack. He barely had a blood pressure and his left main artery — often called the "widow maker" — was completely shut down.
The hospital's cardiac catheterization team, led by interventional cardiologist Subhi Sbahi, M.D. tried desperately to open the artery with a balloon angioplasty for the next hour and a half.
Bryan had multiple cardiac arrests during this time. His heart was not working, but Dr. Sbahi and team didn't give up. They administered CPR throughout the procedure and placed him on a ventilator. The artery would not open but Dr. Sbahi managed to insert a device called an impella, which assists the heart and can pump up to three liters of extra blood flow each minute.
Cardiothoracic surgeon Steven Harrington, M.D. who was at the hospital that morning, was called to assess the situation and immediately brought in the heart team to perform emergency cardiac bypass surgery.
Bryan survived the 4-hour operation. The first few days after surgery were rough. He spent them sedated and on the ventilator. Eventually, the impella and ventilator were removed and the nursing staff had him up walking the halls. Only two weeks after surgery, he was sent home and has since made a full recovery.
"I thank and appreciate everyone involved in saving my life. Every step of my treatment and recovery was truly outstanding and fantastic in every way. God has blessed me," said Bryan.
"This type of heart attack is not usually survivable," noted Dr. Harrington. "It took the seamless teamwork and persistence of first responders, our Emergency Department, Dr. Sbahi and our cardiac cath lab, the surgical team and the post-operative Intensive Care Unit to provide a miraculous result."
According to Dr. Harrington, the operating space, advanced cardiac cath lab and the impella device were vital components in Bryan's positive outcome. Having this level of services and technology available at Henry Ford Macomb Hospital is made possible through the generosity of the community that the hospital serves.
"Bryan would not have survived a helicopter ride downtown. He required immediate treatment to save his life," said Dr. Harrington. "Luckily, we had the right technology in place here at Henry Ford Macomb when he needed it most."
Ultimately, Bryan and his wife got the best gift of all – the chance to celebrate a lot more Christmases together with their four grown children and six grandchildren.