Out-patient hip replacement revitalizes active senior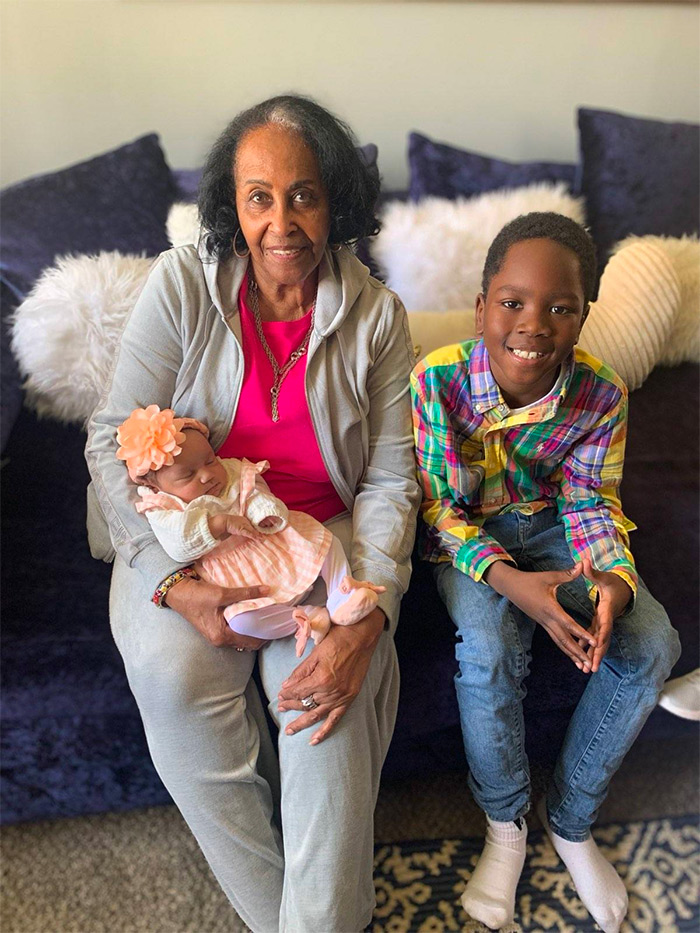 Cora Young knew she needed a hip replacement, but she had been warned by friends to prepare for the pain. Already suffering from arthritis in her hip, she hobbled, not walked. She struggled when rising from a chair and was unable to do her regular activities. After orthopedic surgeon Michael Charters, M.D., performed her hip replacement, she was pain-free and helping others again.
As a young woman, Cora attended Tennessee State University and then entered Henry Ford as a dietetic intern. Decades later as a retired dietitian from the Detroit Health Department, Cora would return to Henry Ford for hip surgery.
"I had arthritis in both hips, but the left one was much worse," says Cora. On a zero-to-ten pain scale, it was an eight.
Cora was motivated by her son Corey, who had two hip replacements done by Dr. Charters. A former college basketball player, Corey had a heart replacement and had been treated with prednisone, which is suspected to have been related to later bone deterioration.
"My son had a good outcome and was very pleased with Dr. Charters, so I contacted him," says Cora. "Dr. Charters was friendly, and I felt comfortable around him. He seemed concerned about his patients because he asked about Corey and his family. I felt like he cared for me. He wasn't just doing the surgery."
Patients should consider hip replacement surgery when they have tried non-surgical treatments such as exercise, weight loss and anti-inflammatory medication – and when hip arthritis pain prevents them from doing the activities they enjoy, says Dr. Charters. "Having a hip replacement is a personal decision and consulting with a hip replacement specialist can help determine the right time for the patient. Also, elective surgery like hip replacement should only be performed when a patient's chronic medical conditions are under control."
Comfortable at home
On a cold morning in March 2021, Cora entered Henry Ford Cottage Hospital as an outpatient for the hip surgery and in the afternoon, she was on her way home.
"I was in and out pretty quickly," says Cora. "When I was fully awake, they put me in a wheelchair to watch an orientation film explaining how to get out of bed and how to get out of a chair. It also explained how to get dressed and get into a car. I left the hospital with pain medicine and pages and pages of exercises to do. I was home by 2:00."
Cora had four home visits from a physical therapist, two visits with an occupational therapist and two visits from a nurse. Four weeks after her hip replacement, she was driving to Henry Ford's Detroit Northwest Rehabilitation Center to continue her physical therapy.
Where's the pain?
Looking back, Cora says, "I was waiting on the pain, but by the grace of God, I went through just fine. I took the pain medicine as directed. After two weeks, I stopped taking the pills unless I felt uncomfortable. I still haven't had any problems with pain. People are so surprised. My pastor never heard of anyone not having any pain after hip surgery, except me."
Dr. Charters used a minimally invasive approach to do the hip replacement. "We also have rapid recovery protocols that include advanced pain management techniques and walking several times on the day of the surgery, which leads to a quicker recovery for the patient," says Dr. Charters. "Most patients require very little if any narcotic medication."
One year later, Cora, 81, is still moving around, and now she can carry her great grandchildren on her hips. "A few times each week, I babysit for my two great grandchildren. One is three months old, and the other is two years old. Still, I'm not having pain or any problem with the hip replacement. And I'm not exhausted afterward," says Cora who relaxes by watching food shows and eating soul food, seafood or any food – especially Chinese, Thai and Mexican. A dietician at heart, Cora and her mission group still occasionally serve healthy, prepared meals to the homeless in Detroit.
Recipe for recovery
Her advice for other patients: Make up your own mind when to get the hip replacement. Don't look toward the negative. Think positively. You can use your faith and trust in God to handle any situation.
Cora's plans for the future? "I hope to live a healthy life for the rest of my time here on earth, enjoying dinners and visits with family and friends and being able to take care of myself and move around."