At Henry Ford Health, we don't just treat illness or disease. We treat people. Our patients' lives are touched by the compassion, dedication and expertise of our staff in thousands of different ways every day, whether it's a lifesaving treatment or simply a reassuring smile and kind word. Every patient's story is unique. We are grateful for those who allow us to share their stories here:
Cheryl's story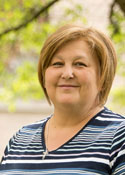 Cheryl Sousa of Taylor had gone to the emergency department at Henry Ford Wyandotte Hospital with severe pain in her left rib.
Liz's story

Liz Dale's symptoms mimicked those of menopause – hot flashes, night sweats, pain and fatigue. But tests revealed something more. Liz was diagnosed a highly malignant and invasive form of hematopoietic cancer called non-Hodgkin's diffuse large B-cell "double hit" lymphoma, and it was stage 4.