Time Matters When Treating Tumors
Request a specialist today, see one tomorrow.
Advanced care when you need it fast
The Henry Ford Skull Base, Pituitary and Endoscopy Center offers guaranteed appointments with a neurosurgeon or otolaryngologist within 24 business hours. We provide immediate access for you at any point during your care process – from second opinions to comprehensive care management, surgery or primary postoperative care.
We diagnose and treat all skull base and intracranial conditions, including:
Pituitary adenoma
Meningioma: Common tumor from the meningeal lining of the brain
Acoustic neuroma
Neurofibroma
Craniopharyngioma: Rare tumor near the pituitary gland
Encephalocele: Herniated brain tissue through the skull base, which may cause a cerebrospinal fluid leak
Rathke cleft cyst: Cyst located near the pituitary gland
Fibrous dysplasia
Metastatic brain tumors
Nasal and sinus tumors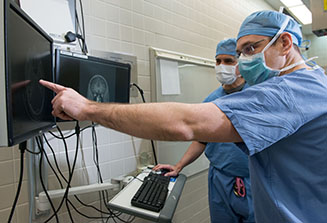 If breathing through your nose has become difficult, our experts can work with you to correct it. Any number of problems can be responsible for nasal or sinus problems. Sometimes symptoms of nasal congestion, nosebleeds, or facial pain and pressure may be a result of tumors of the nasal cavity or sinuses.
At Henry Ford, our Otolaryngologists are specially trained in the diagnosis and treatment of nasal and sinus tumors. Early symptoms of sinonasal cavity (the space between the eye and upper jaw) and skull base tumors are similar to symptoms of sinusitis, including discharge, nasal obstruction, difficulty breathing through the nasal cavity, pressure sensation in the midface, and nosebleeds. Other symptoms may include loosening and numbness of the upper teeth, eye bulging, double or blurred vision, tearing, and, for very advanced lesions, loss of vision, inability to open the mouth, hearing loss, headaches, ear pain, and even mental status changes.
Advances in endoscopic and minimally invasive techniques have significantly increased the options available to patients with these diseases.
Advanced skull base surgery
When surgery is recommended, surgeons from various departments may participate in the procedure to ensure your best possible outcome. The Henry Ford skull base program:
Utilizes the most advanced minimally invasive endoscopic approaches and image-guided surgical navigation systems, including intraoperative MRI and intraoperative neuronavigation systems
Offers personalized, evidence-based treatment plans
Ensures review of each new case by our multidisciplinary Skull Base Tumor Board
Provides a range of treatment options including surgery, tumor embolization or stereotactic radiation therapy
Includes special expertise in skull base reconstruction – improves functional and cosmetic outcomes, and reduces the risk of cerebrospinal fluid leaks and infection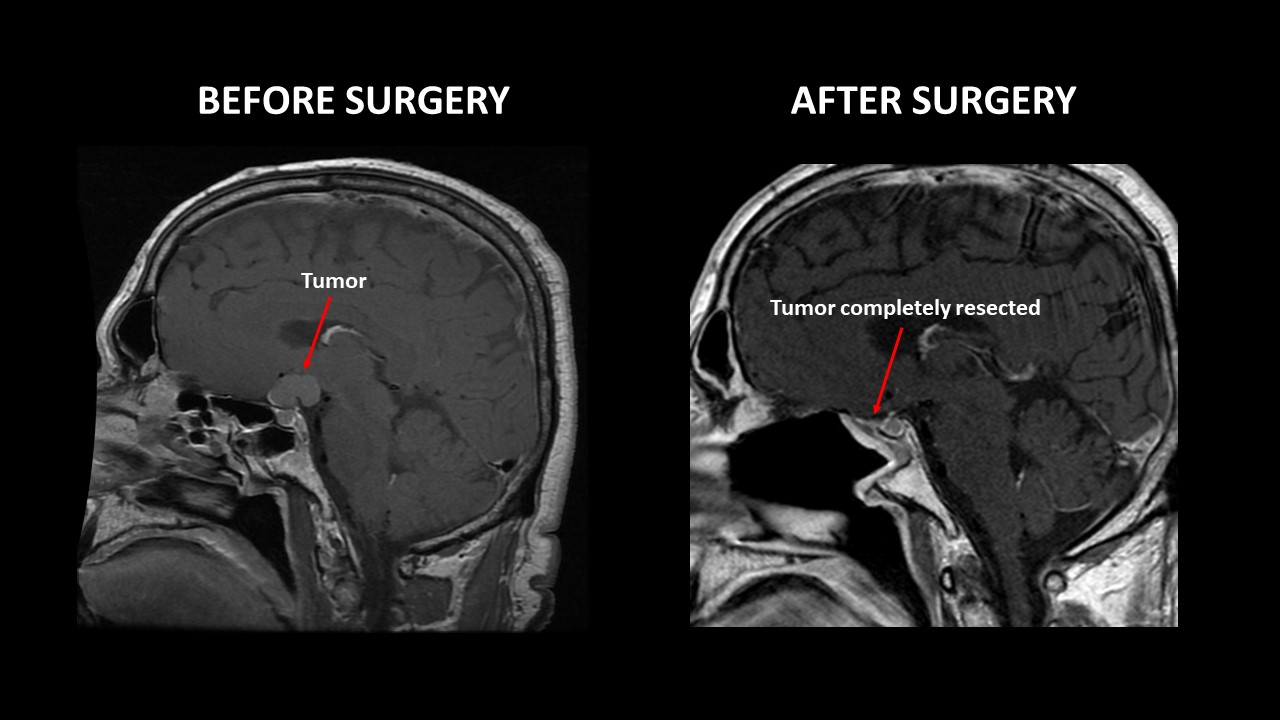 Immediate testing and advanced treatment
The Henry Ford skull base team offers guaranteed appointments within 24 business hours with a neurosurgeon or otolaryngologist. In addition, each new patient case is reviewed at our Skull Base Tumor Board by a multidisciplinary team of experts. Based on this collaborative review, we work with you to develop a comprehensive, personalized treatment plan.
Depending on your individual case, this treatment may include one or more of the following advanced tests:
3-D MR spectroscopy and 3-D neuroimaging for intraoperative guidance
High-field 3-T MRI
Speech-language evaluations including Wada studies
Carotid angiography and balloon occlusion testing
CT, MR and nuclear cisternography
The Skull Base, Pituitary and Endoscopy Center also is a national leader in the use of technologies that make surgery safer.
What are skull base lesions?
A skull base lesion is a general term that can refer to any pathological condition that affects the base of the skull. These conditions include:
Cerebrospinal fluid (CSF) leak