Back to fitness and fashion following foot surgery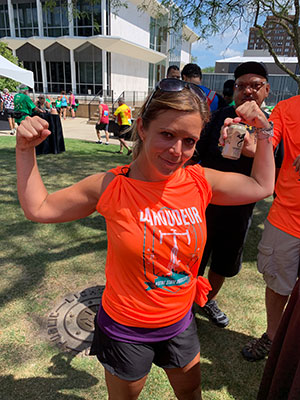 More than 25 years ago, Karrie Slominski, a Henry Ford Health senior staff audiologist from Northville, still remembers the pain she went through after bunion surgery.
In 2015, she started experiencing discomfort in her left foot. The physician suggested cortisone shots with the hopes that the pain would go away. However, that was a temporary fix; it would go away, but then return.
Fast forward to 2021. Karrie, a fitness enthusiast who likes to run daily, noticed her foot pain was becoming more bothersome and throwing her body off balance. The difference in her feet and ability to get around required the need for physical therapy for her right hip and left knee. She knew it was time to look into options and decided to undergo a consult with Nicole Brouyette, DPM, a podiatrist specializing in foot and ankle surgery at Henry Ford Health. Dr. Brouyette was highly recommended by a friend who had foot surgery. Based on the thorough evaluation, which included X-rays and physical examination, she recommended foot surgery.
"My understanding was surgery was recommended because my second toe was disconnected from my foot due to the cortisone shots weakening the tendons and ligaments," Karrie said.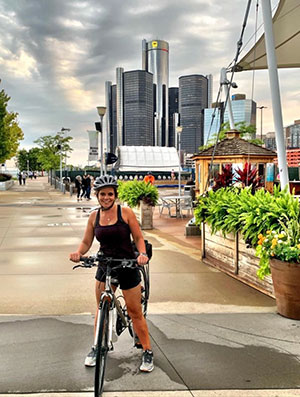 She was worried about the surgery because she remembered the pain from her original bunion surgery, but Dr. Brouyette put her mind at ease.
"Dr. Brouyette thoroughly answered my questions and assured me the procedure would not be as painful as the original surgery I had. She was also confident in the prognosis," said Karrie.
Karrie felt certain proceeding with the surgery with Dr. Brouyette was the only option, but one thing was bothering her.
"Anyone who knows me, knows I would not want surgery in the summer, my season of fitness and fashion, but it had to be done."
On June 17, 2022, the surgery to repair her dislocation and restoration of her anatomy with ligament repair was performed at Henry Ford Medical Center-Grosse Pointe. Dr. Brouyette said she was confident the repair followed by rehabilitation at the Henry Ford Center for Athletic Medicine would get her on her feet again.
"Karrie is just one of those patients you will never forget. She has so much charisma for life and is a strong determined woman with a lot of will-power. I knew postoperatively she would soar," said Dr. Brouyette.
In fact, she has. Karrie is happy to report that after staying off her feet and being in a boot for nine weeks to heal, she has experienced no pain.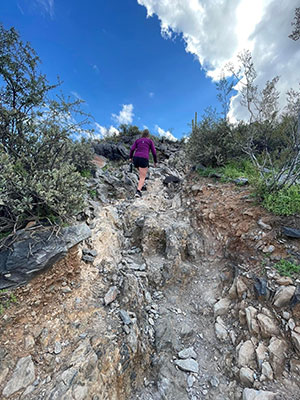 "I am back to running, hiking, biking, even wearing stilettos," she said.
Karrie expressed that as someone who strives for physical fitness for both physical and mental health, the treatment has also boosted her energy, confidence and zest for life.
"I am so happy with everything Dr. Brouyette and her staff did for me. Other than having to take a break during my favorite season, I am back to enjoying my favorite activities."