Living Life to the Fullest after Spine Surgery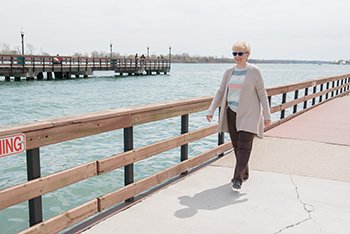 In 2004, Beverly Jager started experiencing severe lower back pain. She was referred to Lance Chaldecott, M.D., an orthopedic surgeon at Henry Ford Wyandotte Hospital.
"After performing some tests, he discussed my results and explained the steps I should take before any surgery should be considered, such as injections and physical therapy," Beverly says.
Ultimately, however, her spine did not recover and she did need surgery.
Several procedures, a new diagnosis
Over the next 11 years, Dr. Chaldecott performed four lumbar and two cervical surgeries on her spine, which helped provide some relief for Beverly.
In the summer of 2018, Beverly began experiencing extreme pain in her thoracic spine and returned to Dr. Chaldecott. He located a herniated disc, but also found that she had extreme curvature in her thoracic spine. He explained that he could operate and correct the herniated disc, but without addressing the curvature, she would still experience pain.
Coordinated care, a new lease on life
Dr. Chaldecott referred Beverly to another surgeon who specialized in correcting this curvature.
"Dr. Chaldecott explained the importance of me seeing him as soon as possible," Beverly says. "And knowing how frightened I was, he took it upon himself to personally contact the doctor on my behalf."
In October 2018, Beverly underwent thoracic surgery by the second surgeon, and Dr. Chaldecott contacted her for updates on the surgery's outcome and her progress.
"From the moment I met him, he has had my best interests in mind," Beverly says. "Dr. Chaldecott made it his responsibility to check on me and demonstrated his concern for my well-being and how much he cared."
In the last 15 years, Beverly has undergone a long treatment journey, and at times she was worried about becoming confined to a wheelchair for the rest of her life. However, her medical team gave her the encouragement she needed to stay positive.
"Today I am proud to say that my spine is healing, I am walking very well and my pain is limited," she says. "I have my life back because of Dr. Chaldecott."