The Motherwell Family Story: Finding Success with Complete Orthopaedic Care at Henry Ford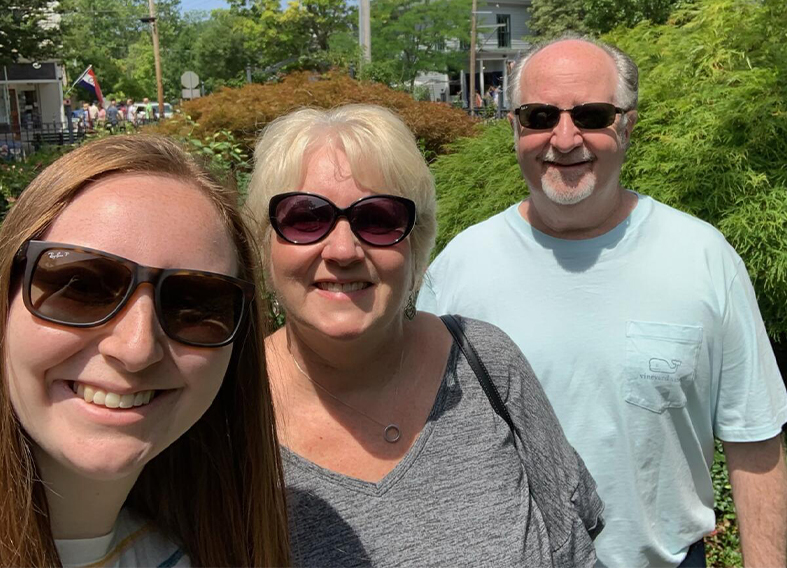 Debbie Motherwell, a teacher for Troy schools, remembers it as a routine day as she was visiting her son Michael, and daughter in law Kate in July 2022. The day ended up anything but routine.
"I completely tripped on my own feet coming out of their house and landed on my right elbow," recalls Debbie.
Her son Michael, a principal management engineer who works in Orthopaedics Administration at Henry Ford Health, suggested that Debbie be seen by Stephanie Muh, M.D., orthopaedic surgeon at Henry Ford Health who specializes in elbow surgery.
Dr. Muh determined that surgery would be needed to repair the complex injury resulting in breaking two bones in the elbow. The procedure was performed at Henry Ford West Bloomfield Hospital in August 2022.
"The injury required us to plate one of the bones (olecranon) to bring the pieces back together," said Dr. Muh. "Because the break of the other bone (radial head) was into many different pieces, she required a replacement for that break," she added.
Surgery was successful, but occupational therapy would be required for several weeks to restore movement and strength. Debbie said throughout her treatment and recovery she was very appreciative of the care provided.
"Everyone involved in the care at Henry Ford West Bloomfield and Henry Ford Medical Center – Royal Oak where I received occupational therapy from Morgan Walsh have been absolutely amazing," Debbie says. "I still have a few issues like numbness in my finger that is improving, but I've made tremendous progress and have functional range of motion in my arm. I couldn't do many day-to-day things like drying my hair after the surgery, but now I can do everything."
Husband Scott Soon Follows with Knee Surgery
Just as Debbie turns a corner with rehabilitation following her surgery, her husband Scott, an automotive sales logistics professional, had his turn with orthopaedic related pain. His right knee was increasingly bothering him after playing golf that fall. With Debbie's positive experience at Henry Ford, Scott followed suit and met with Vasilios (Bill) Moutzouros, M.D. chief of Sports Medicine at Henry Ford in November 2022.
After an evaluation and scan, Dr. Moutzouros confirmed Scott had a torn meniscus injury, a common condition that can be caused by forceful twisting that causes certain tissue in the knee to tear. He decided to forego cortisone injections and have surgery the following month so he could continue to play golf in the spring.
"Mr. Motherwell was unable to golf appropriately due to the twisting needed in the golf swing," explained Dr. Moutzouros. "Surgery helped clean up a meniscal tear that was causing catching and locking in the knee."
Like Debbie, Scott said he had an exceptional experience with the staff at Henry Ford Medical Center - Royal Oak.
The surgery took about one hour, and he was off of his crutches after four days. Scott was able to go back to work the same week.
"It blew my mind how well the recovery went. It was all thanks to the successful surgery and the exceptional physical therapists at Henry Ford," said Scott.
As Scott approaches his retirement in the future, he is thankful to have his knee in great shape to play more golf. He says he is looking forward to getting back in action this upcoming spring.
"I've told many people that I used to go to another health system and decided to go to Henry Ford because of my son, but the consistent care every step of the way from the receptionists to the security guards and all the employees who greet you with a smile, was truly impressive to experience."
After Scott's Surgery, Daughter Courtney Seeks Care for Knee Injury
When it rains it pours. As if two orthopaedic procedures within months of each other were not enough, Debbie and Scott's daughter Courtney, a pediatric speech pathologist and former dancer who now teaches dance, was right in line with them seeking out treatment for a knee injury soon after Scott had his surgery.
Courtney explains despite years of dancing and sitting in small chairs to interact with kids she had not experienced knee pain for most of her life, but increasingly both knees started to bother her to the point that she was limping. Because of the surgeries her parents recently went through, she put off seeing a specialist. Courtney, who lives with her parents in Troy, decided to see a physician at a local hospital who she had seen before.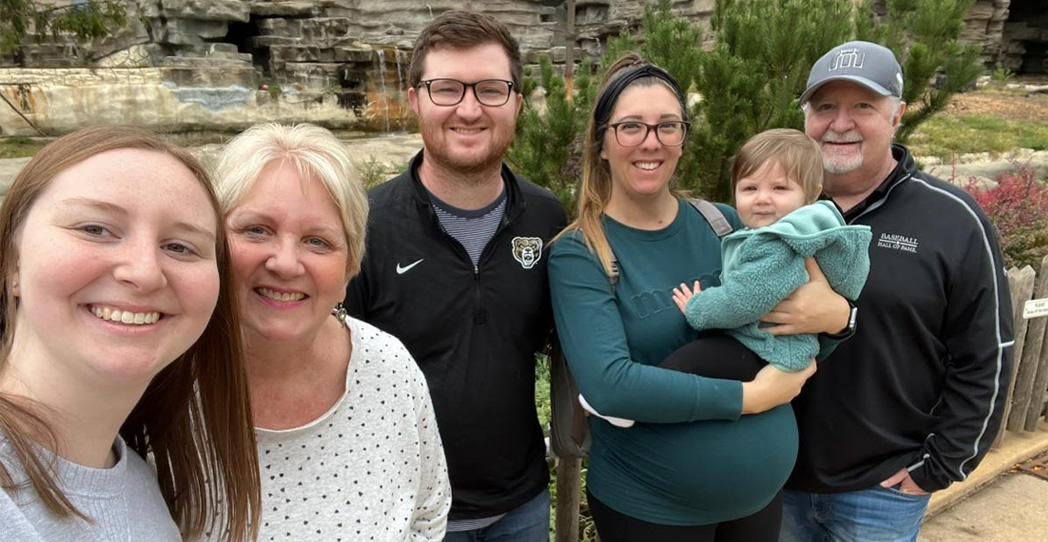 "He evaluated me, took some x-rays and said it was just how my knees were and suggested physical therapy," Courtney recalls. "It was hard to hear given down the road my pain may get worse."
Being 25 years old and already experiencing significant pain, she decided to seek a second opinion. She sought the advice of her brother Michael for recommendations to get a fresh set of eyes on her condition.
Courtney was evaluated by Melissa Nayak, M.D., sports medicine specialist at Henry Ford Health.
"The evaluation went great," said Courtney. "Dr. Nayak spent significantly more time evaluating both knees, provided a diagnosis and several treatment options."
Dr. Nayak explains that Courtney had bilateral patellar instability (an unstable kneecap) and patellar tendinitis, also known as Jumper's knee, causing inflammation and weakening of the tendon.
"The treatment plan consisted of a targeted home exercise program and physical therapy, which included various modalities and patellar tracking and stabilization exercises, " she says. "The goal was to safely maximize functional improvement and continuation of an active lifestyle."
After two months of physical therapy and treatment, Courtney is pain free in both knees and happy that her condition has not hindered her ability to do her job helping preschoolers while enjoying her love of teaching dance.
"Thanks to Dr. Nayak and the treatment with Barbara Gillespie at Henry Ford Rehabilitation - Lowell Park in Sterling Heights, I now have normal functional strength in my knees and learned strategies to avoid future knee injuries," Courtney says.
"The level of care of all the employees I encountered at Henry Ford is not something that I have experienced in the past. I really felt that they had my best interest in mind."
For more information on complete orthopaedic care and treatment options at Henry Ford Health, visit henryford.com/orthopaedics.