When Time Matters: Patient Story
When Diane Ochoa decided to clean out a closet one morning, she had no idea the journey she was about to begin. It was not long before she and her husband noticed that her words were slurring and her left side was weak; immediately they made the crucial decision to go to the Henry Ford Health Center - Brownstown Emergency Department.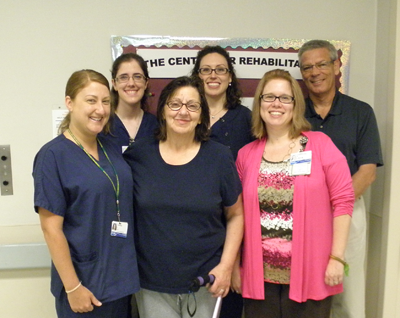 Once in the Emergency Room they learned that Diane was having a stroke. Because she had received medical assistance as soon as the symptoms were noticed, she was able to be treated with the drug that reduces symptoms and stroke effects. Once stable, she was transferred to Henry Ford Wyandotte Hospital where she was admitted for acute care, and later transferred to the Physical Rehabilitation unit.
For the next twelve days, Diane participated in occupational, physical and speech therapy. She made great strides in regaining function and independence.
Diane praised her healthcare team, "everyone here has been wonderful. The therapists and nurses are so caring. I could never find one negative thing to say about this place."
Not only was her team wonderful, but Diane also loved the food. "I asked for the turkey burger recipe and they gave it to me. The vegetable fettuccini was delicious," she raved. The staff was equally as positive about Diane.
"Diane is a hard worker. She never complained. She liked a challenge," said Heather Huddleston, physical therapy student.
Occupational Therapist Gretchen Rensi said, "Diane was a pleasure to treat. She wasn't afraid of setting goals and going after them. Her family was supportive and sweet. She has a great sense of humor and was very goal-oriented. It made it so much fun to work with her."
Diane was discharged home with follow-up outpatient therapy, and is focused on following the program, getting better and moving forward with her life.