At Henry Ford Health, we don't just treat illness or disease. We treat people. Our patients' lives are touched by the compassion, dedication and expertise of our staff in thousands of different ways every day, whether it's a lifesaving treatment or simply a reassuring smile and kind word. Every patient's story is unique. We are grateful for those who allow us to share their stories here.
Not long after Kathleen and Nate Dieterich were married, they started thinking about having a family. After two years of unsuccessfully trying to conceive, they sought the help of the Henry Ford Center for Reproductive Medicine. With the help of their care team, they had their first son, Dex, and now have the family they dreamed of.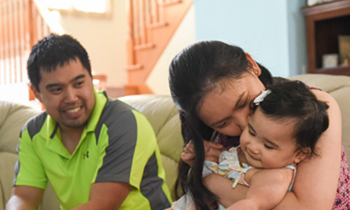 After a childhood brain tumor, Bernard Sia lost his fertility – something he didn't realize until he married and began trying to start a family. After seeking help at the Henry Ford Center for Reproductive Medicine, he and his wife, Lulu, welcomed their first daughter, Luna, into the world.