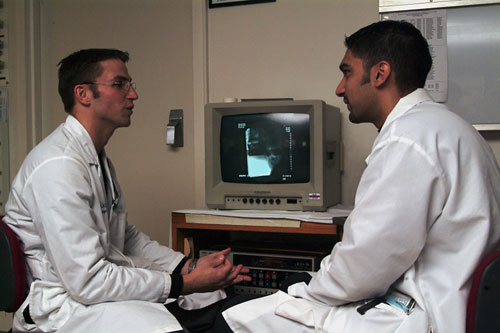 The Division of Speech-Language Sciences and Disorders uses state-of-the-art techniques to diagnose and treat children and adults with oropharyngeal dysphagia or difficulty swallowing.
Signs and symptoms of oropharyngeal dysphagia may include difficulty chewing or swallowing, pain upon swallowing, coughing or choking during meals or the sensation that food or liquid is sticking in the throat during or after meals.
To determine the disorder, swallowing evaluations will be performed by a speech-language pathologist in conjunction with a diagnostic radiologist. Following the evaluation, swallowing treatment will be determined and provided by our knowledgeable staff. Patients can feel confident knowing that our staff has extensive experience in the area of dysphagia and has presented research at national and area conferences and published numerous papers and book chapters about dysphagia.
Meals are often social events. Being able to enjoy a good meal enhances quality of life. Safe swallowing is a critical component of normal nutritional maintenance. Preserving or restoring the highest kind of swallow functions is the primary focus of swallowing therapy.