Physical Therapy Helps Two Brothers Get Back In The Game
After recuperating from arm injuries, the Dickinson boys are back on the baseball field and are stronger than ever.
For Joseph Dickinson and his younger brother Matthew, baseball is the driving force in their lives. They have both played multiple positions as they've explored their love of the sport and have made many friends along the way.
However, at one point, it seemed like they would no longer be able to play.
Injuries That Seemed Career-Ending
"When I was 13, I was pitching and my shoulder dislocated," says Joseph, who will be a senior this fall at Utica Ford High School. "When it first happened, I thought it might be a fluke. The next time I pitched, it happened four times in four pitches, and it was accompanied with extreme pain. I thought, 'I probably will not be able to play again.'"
Matthew has a similar story.
"Last summer I was pitching, and two innings in my shoulder popped," says Matthew, who will be a sophomore this year at Utica Ford High School. "I couldn't even raise my arm past my shoulder. I thought that was it."
Quick Access to an Expert Team
Joseph was at an out-of-state tournament when he was injured. But after the tournament ended — just a few days later — he was able to see Eric Makhni, M.D., an orthopedic surgeon with Henry Ford Sports Medicine.
Dr. Makhni and his team ran several tests, then set Joseph at ease. He didn't need surgery and his injury wasn't career-ending. "Most of these types of injuries are treated non-operatively," says Dr. Makhni.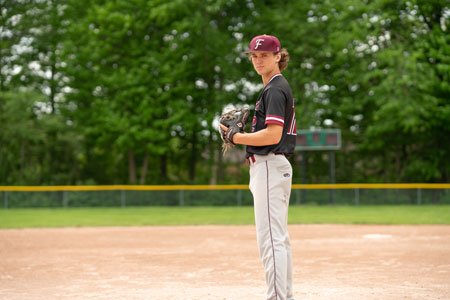 Joseph began an extensive physical therapy program with Henry Ford Physical Therapist Leeann Taptich, which started with light exercises.
"We did mobility exercises for a few weeks, then worked our way up with very light bands, strengthening my back and legs," Joseph says. "I did these every day for about an hour. Each time it would hurt, but then I'd feel better the next day. Three months after my injury, I was able to play field again."
Pitching, a motion that puts increased stress on the shoulder, took a little longer. But Joseph participated in a throwing program that helped him make a full recovery.
"The body is not used to throwing so much, especially if you're a pitcher or catcher," Dr. Makhni says. "This can cause different muscles to get fatigued. Then, other muscles and joints try to help out, and it creates imbalances. Oftentimes, all you need to do is modify your activities, participate in a good rehabilitation program, and strengthen and stabilize your joints. Then, you can get back to playing without any sort of surgery."
Joseph says he has gone five straight innings this year and has thrown about 20 so far without feeling any pain. He's able to pitch, play third — play whatever position he wants.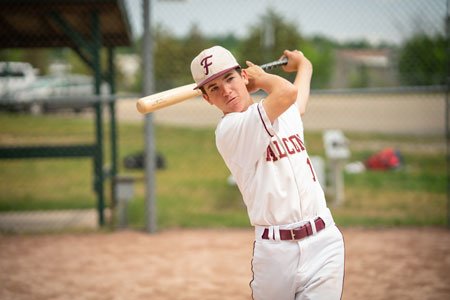 Because Joseph's treatment was so effective, the Dickinson's contacted Henry Ford Sports Medicine right away when Matthew injured his arm last year. Matthew got an appointment with Dr. Makhni the next day.
"We found out that the growth plate in my shoulder was starting to get irritated and I had a bunch of tightness in my back and legs," says Matthew.
Matthew started physical therapy and got into a throwing program. After a couple of months, he was ready to play again.
A Focus on Prevention, Strength and Performance
Both Joseph and Matthew still do their physical therapy exercises each week, which help them strengthen key muscles to minimize the risk of additional injuries. But they've noticed other benefits.
"I definitely think my performance has gotten a lot better," Matthew says. "Not only was my arm injured, but they also found a bunch of tightness in other areas that put strain on my arms. Since I've been able to loosen all of that, I've been able to perform better, run faster and throw better. This year is probably one of my best years hitting with an average between .400 and .500."
Joseph agrees. "I feel like the strength has definitely helped," he says. "I'm a better pitcher because of it, and I've hit the hardest this year, including 10 doubles, which is close to the school record. This is my best season so far."
Grateful to be Back in the Game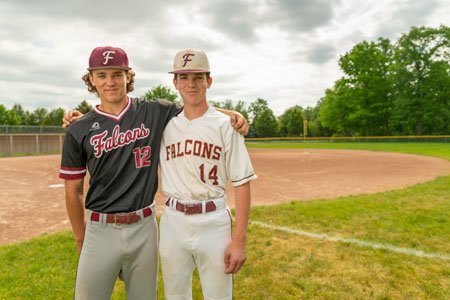 "Dr. Makhni gave me hope when he told me that my injury wasn't major, and that I would be able to play again," Matthew says.
He also credits the Henry Ford Sports Medicine team for his personalized treatment plan. "They didn't try to just fix my arm. They realized that I loved the game, so they really took their time to see where I play and how treatment could help me get better."
Now, Matthew is looking forward to a future that includes baseball in some form.
"It's probably been the most fun of my life, so I really want to keep baseball going after high school," he says. "But if I don't get the chance to play, I still want to be involved in the sport, maybe coach a team."
Joseph also sees baseball in his future. "I'm planning on playing in college," he says. "This is the year where I start going to showcases."
His experience at Henry Ford has also helped inspire his career plans.
"After college, I want to stay around baseball for sure," Joseph says. "Knowing how Dr. Makhni helped me, I'd like to do that for other people. It's a hard career path, but I'd like to work in orthopedics, work with other kids — just help other people with the same problems I had. I'm very grateful for the Henry Ford Sports Medicine program."