Shoulder Surgery Helps Teen Hockey Player Win State Title
After a complex surgery on both shoulders, Giuliana is back on the ice and competing once again.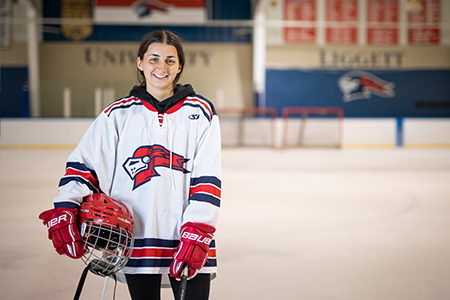 "Hockey is one of my favorite things to do," says Giuliana Lutfy, a junior at University Liggett School in Grosse Pointe Woods. "It's almost like a release from everything that's going on. To just be out there and not have to worry about anything except the game that you're playing."
Unfortunately, several years ago a persistent shoulder injury threatened to sideline Giuliana.
Powering Through the Pain
"The pain started probably in seventh grade," she says. "Every time I would move my arm above my head, it would be painful—it felt kind of like a pinched nerve. The pain sometimes went all the way down my arm. Playing was not much fun. It definitely held me back and made me more timid."
For years, Giuliana tried to find answers and went to several specialists. Meanwhile, she powered through the pain.
"It's funny, because if I hadn't spoken with Giuliana or her parents about her surgery, I never would have known she had an injury," says Gregory Paddison, Giuliana's hockey coach at Liggett. "She never complained, never made any excuses. She's one of those kids who, when you flip that switch, her competitive streak kicks on. She's one of the best players--not just on this team but in the whole state."
Getting Answers
Finally, before the end of her freshman year, Giuliana was referred to Vasilios Moutzouros, M.D., Henry Ford Sports Medicine orthopedic surgeon.
"When I met Giuliana she had been having issues with her left shoulder for some time-- it was dislocating regularly," Dr. Moutzouros says. "And because of that, it was interfering with her ability to play hockey."
There are a variety of reasons why a shoulder might dislocate. In Giuliana's case, it was due to a labral injury, the tissue that attaches to the rim of the shoulder socket that helps keep the ball of the joint in place, and underlying multidirectional instability, which is when someone's joints become very loose and can potentially pop out.
Dr. Moutzouros started Giuliana on physical therapy and additional treatments to try to build her shoulder muscles and stabilize the joint. But after several courses of therapy, she still wasn't seeing much improvement.
"We ultimately decided that surgery to repair the labrum and capsule, and tightening it up would be successful," Dr. Moutzouros says.
Double Victories: Shoulder Surgery and a Championship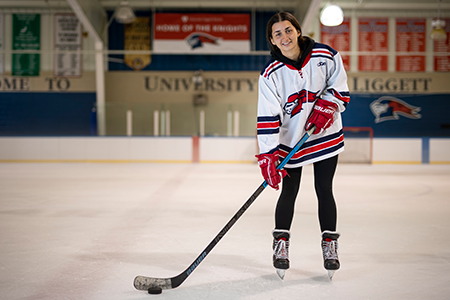 By this point, Giuliana was having pain and mobility issues in both shoulders. However, Dr. Moutzouros and his team recommended starting with surgery on her left shoulder to increase Giuliana's chances of a faster recovery and return to the ice rink.
With post-surgical physical therapy, that's exactly what Giuliana did.
"After her first surgery, Giuliana was able to play hockey and win a state championship," Dr. Moutzouros says. "And surgery on her right shoulder went just as well. She actually recovered faster because she knew what was coming. When you've already done it once on one side, you're more informed. Typically, recovery is fairly quick without any surprises."
After shoulder surgery, Giuliana's passion for hockey has only gotten stronger and she looks forward to continuing at an elite level.
"Today, I feel like I'm probably 50 to 75% back to normal," she says. "I'm definitely on the road to getting there. Everyday stuff is becoming a lot easier. My goals for the season are to do my best with what I've been given."
Dr. Moutzouros' passion for helping athletes of all ages is equally great.
"It's unbelievably rewarding," he says. "It's the reason I love being a sports medicine surgeon. There's no better thing in medicine than trying to make somebody better and then seeing the results. It's what keeps me going every day."
Special thanks to University Liggett School in Grosse Pointe Woods.