Hip Preservation Surgery Gets An Up-And-Coming Athlete Back In The Game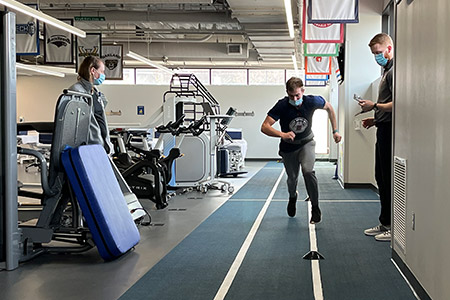 When Joey Liedel was sidelined by years of debilitating pain in both of his hips, he turned to the Henry Ford Sports Medicine team to help him get back on the basketball court.
During his junior year of high school, Joey was diagnosed with a severe case of a condition called femoroacetabular impingement (FAI), which causes hip stiffness and pain. Affecting competitive athletes and active older adults alike, it can develop when the hip bones are not shaped normally and don't fit together perfectly, causing them to rub against each other.
Joey's condition limited his range of motion. If left unchecked, this could lead to osteoarthritis ― the most common form of arthritis.
But Joey continued to play and fight through the pain--until his freshman season in college, when the pain became unbearable. "At that point, my hips felt so tight that I couldn't play without pain," he says.
Hip Surgery Leads to Swift Recovery
It was time to see a professional: specifically T. Sean Lynch, M.D., an orthopedic surgeon at Henry Ford Health who treats hip and knee disorders. Dr. Lynch is one of a few surgeons in the Detroit area who specializes in hip preservation.
"Hip issues in young athletes can be misdiagnosed as groin pulls or muscle strains and they're only treated with physical therapy," says Dr. Lynch. "Some athletes stop playing the sport they love as a result of the constant pain."
But Joey, who comes from a family steeped in basketball tradition, wouldn't have to give up his sport. To correct Joey's hip issue, Dr. Lynch performed hip preservation surgery on both of Joey's hips. Also known as hip arthroscopy, this minimally invasive procedure lets surgeons look inside the hip joint with a scope to find and treat problems. Patients typically go home the same day of surgery. And thanks to advancements in diagnosis, treatment and rehabilitation techniques, Dr. Lynch says that patients can resume their normal activities more quickly and pain free.
Joey says Dr. Lynch was a calming influence over his decision to have surgery. "I was very nervous before that first hip procedure because I've never had any type of surgery before," says the Monroe, Michigan resident. "Dr. Lynch calmed my fears about the procedure by constantly communicating with me and my family about everything that was going to happen and the results he wanted to achieve."
Physical Therapy Gets Joey Back on the Court
Since the procedure, Joey is doing "fantastic," Dr. Lynch says. "I think he's a great example of a young athlete who, from diagnosis to treatment, has come back from not being able to play his sport by taking advantage of our one-stop surgical, rehabilitation and performance program to help facilitate and speed up his recovery."
Joey has undergone about 40 bi-weekly sessions with physical therapist Chris Ryan at Henry Ford's Center for Athletic Medicine. Joey will receive a medical evaluation before he transitions to the Henry Ford Sports Performance training phase of his rehabilitation.
"What's unique about our facility is that we can see a patient through all phases of their recovery," says Ryan. "We work collaboratively with our doctors, athletic trainers and performance team to develop a treatment approach that is tailored to each patient."
"Everything with Dr. Lynch has gone smoother than I thought was possible," Joey says. Less than six months after his second hip surgery, Joey plans to resume basketball for his sophomore season in the fall. He said the pain in his hips is gone and he feels better than ever.
"The physical therapy experience has been great. The treatment plan has been smooth and consistent, and Chris understands what I need to get done. It's been an important part of the process for me to get to where I want to be."