Back defending her team after hip surgery success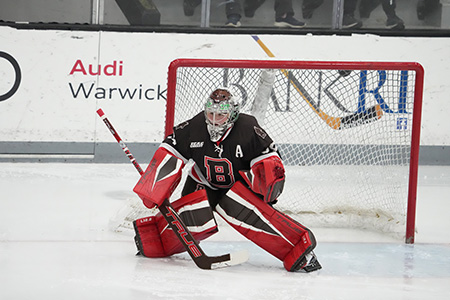 Kaley Doyle fell in love with hockey when she was only five. By age seven, the position of goalie clicked. Her skills and high academic achievements in high school eventually led to recruitment from several top collegiate women's hockey teams.
Hip pain set back
Like many hockey goalie athletes, the mechanical and rotational movements required to play the position led to hip pain. At age 18, an MRI revealed a hip impingement and labral tears causing injury to the hip socket. Double hip surgeries would be required to repair the conditions so in 2019, she took a gap year to undergo the procedures at a local hospital and recuperate after graduating from high school.
College dream becomes reality
Kaley had her pick of several Division 1 and Division 3 college hockey programs, but Brown University in Rhode Island was her top choice. She was accepted to Brown and enrolled in 2020.
Some challenges were mounting as she began her new journey in college.
"We didn't have a hockey season my freshman year at Brown because of COVID-19 but we still practiced, and I was having the same pain issues again." Halfway through her sophomore year Kaley knew it was time to get another MRI.
Private trainer paves the way for successful treatment at Henry Ford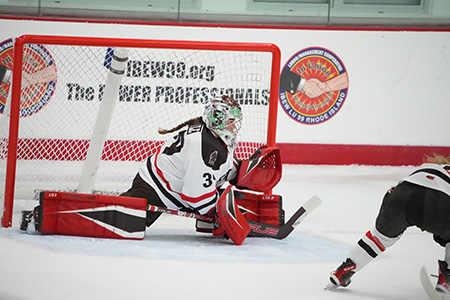 Kaley sought the advice of her private trainer in Michigan, Zachary Atwood who became a physical therapist at Henry Ford. Zachary suggested she be seen by T. Sean Lynch, M.D., an orthopaedic surgeon who specializes in treating hip and knee disorders at Henry Ford. Dr. Lynch, a past competitive ice hockey player, is a team physician for USA Hockey.
After meeting with Dr. Lynch, Kaley immediately felt she was in good hands.
After a detailed evaluation Dr. Lynch determined Kaley would require back-to-back surgeries again. Kaley developed scar tissue in her hip joint around her labrum that caused both of her labrum to re-tear.
"This scar tissue develops between the hip capsule and labrum, so every time Kaley moves her hips, it tugs on the labrum, which is very painful," Dr. Lynch says. "Lots of times in this instance, MRIs can come back normal, so its critically important to listen to the patients and what they are experiencing to guide our diagnosis," he adds.
The revision procedures were necessary to remove the scar tissue from her labrum and to re-fix her labrum to her hip socket. Double revision hip labral repairs were done in the spring of 2022.
Kaley had to go back to school the day after her surgery to take her final exams at Brown. After her finals, she did physical therapy with her trainer at Brown and then flew back to Michigan to do physical therapy in May with Zack, working with him for several months to get her strength back.
"As a Division 1 hockey player, I needed to be strong. Being able to receive physical therapy from Zack who is used to working with hockey players was very beneficial to get me back in shape and to compete," she expressed.
With a strict return to play regimen that Dr. Lynch and Zack took the time to set up, Kaley started skating again in August 2022.
Back to play and planning her bright future
The surgeries and physical therapy have made a difference for Kaley. She is a starting goalie for Brown and halfway through the season, has not experienced hip pain. After graduation, she hopes to pursue a master's degree in business while playing professionally either in the U.S. or abroad.
"There was a point I thought I would be done after the first surgeries didn't work, but Dr. Lynch and Zack made it possible for me to play," said Kaley. "They gave me another chance to continue doing what I love."
Whether it's a puck heading her way or an unforeseen health obstacle, Kaley's passion and determination to succeed will always make her a winner.