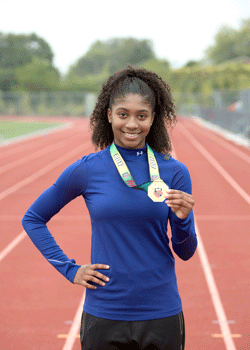 Running track since she was nine years old, Kourtney Kennard, a sophomore at Oak Park High School, started feeling a lot of pain in her left hip. The pain became so severe Kourtney had to completely stop training. After visiting Henry Ford West Bloomfield Hospital, Dr. Makhni informed Kourtney that she was experiencing signs and symptoms of hip impingement, also known as femoroacetabular impingement (FAI). In FAI, the femoral head and/or acetabulum may be misshapen, causing injury to the cartilage or labrum of the acetabulum. Fortunately, non-operative treatment is usually successful in treating FAI; however, sometimes surgery is needed.
Dr. Makhni performed a hip scope to repair the tear and correct the underlying bone abnormalities in the hip. The typical recovery to full sports participation may take anywhere from six to twelve months and includes a very comprehensive rehabilitation program. With the help of Andrea Staley, physical therapist at the William Clay Ford Center For Athletic Medicine, Kourtney completed her rehabilitation program in six months and was back on the track. Her coach, Brandon Jiles, had the right approach to get Kourtney competing again by being "patient and not doing too much too fast" but also not limiting her progress.
After six months of rehab and training, Kourtney was helping her team win the gold medal at the Junior Olympics in the 4 x 100 relay. Kourtney stated it was a definite "confidence boost."
"What is special about Henry Ford and Dr. Makhni is they really helped me get back to where I needed to be", said Kourtney.