Dennis Stora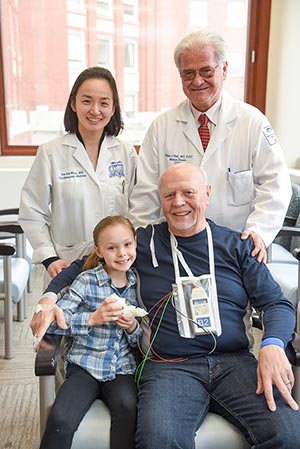 Twelve years after going through surgery to replace his aortic valve, 69-year-old Dennis Stora started complaining of chronic fatigue and shortness of breath. He was found to have developed a paravalvular leak and was initially advised to undergo a second surgery to repair the valve. Eventually he was referred to Henry Ford Hospital, where a team of doctors and imagers were pioneering something new.
After an unsuccessful attempt to plug the leak in the cath lab, Dr. William O'Neill consulted with Dr. Dee Dee Wang, a cardiologist who runs both the structural heart imaging department for the hospital as well as the 3-D printing program at the Henry Ford Innovation Institute. They sent Stora for a CT, discharged him home, and then got down to work.
Over the next month, O'Neill and Wang did some troubleshooting with plastic models of Stora's heart that they printed at their in-house 3-D print lab and eventually identified exactly where Stora's defect was and how to best approach repairing it.
Twenty-four hours after his procedure, Stora and his family, including his 9-year-old granddaughter, were ready to have him go home. But before they left, Dr. Wang handed the 3-D print of his heart to him and his granddaughter to take home. She was amazed that she could hold her grandfather's heart in her hands.