Quick and Comfortable Recovery
Carole is Feeling Great After TAVR Procedure
For 82-year-old Carole Wesner, feelings of heart palpitations and fatigue are a thing of the past thanks to transcatheter aortic valve replacement (TAVR) at Henry Ford Macomb Hospital.
An Innovative Treatment
When the Shelby Township resident was diagnosed with aortic stenosis, her cardiologist referred her to the Henry Ford Heart & Vascular Institute. Wesner became one of the first patients at Henry Ford Macomb Hospital to undergo TAVR, a minimally invasive procedure to replace a defective heart valve without open-heart surgery.
"This minimally invasive, revolutionary procedure to replace a defective heart valve without open-heart surgery brings new hope for people with heart disease," said interventional cardiologist Samer Kazziha, M.D., Chief of Cardiovascular Services for Henry Ford Macomb Hospital.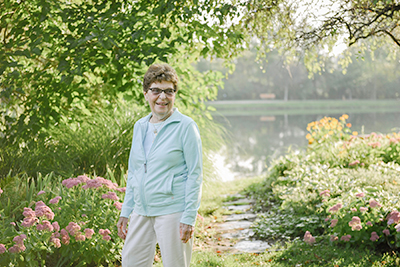 During TAVR, a team of cardiologists use thin catheters to access the heart through the femoral artery in the groin region, threading the collapsed valve up through the tubing. Once properly positioned, a balloon expands the valve, pushing back the native valve and lodging the new device in place.
"TAVR is easier on the patient, allows for quicker recovery and, ultimately, can improve the patient's quality of life," said Raed Alnajjar, M.D., Henry Ford Macomb Hospital's Director of Cardiothoracic Surgery Services. "We're pleased to now offer this option close to home for our patients in Macomb County and surrounding areas."
An Expert Team
William O'Neill, M.D., Henry Ford Health's Director of Structural Heart Disease, led Wesner's two hour procedure, with Dr. Alnajjar, as well as interventional cardiologist Natesh Lingam, M.D. O'Neill performed the first TAVR in the United States in 2005.
Carole has two sons who live near her. "You've heard of helicopter parenting? I like to joke that I have helicopter children. They are very attentive — to the point of hovering. They take very good care of me," she said.
She shared that her sons immediately Googled her doctors when they found out about her procedure and after reading their bios, were reassured that their mother was in good hands.
Successful Results
Her procedure was on August 7, 2019 and she was released the next day to recover comfortably at home. "It was awesome. Every single person was so caring, professional and gifted," she recalled.
Wesner said that she noticed immediate improvement and doesn't get "that fluttery feeling" in her chest that she did before the procedure. She has resumed her normal activities, including working in the yard, going to church and meeting up with her friends for breakfast.
"Life is back to normal and I feel wonderful," she said.