Surgery, Minimally Invasive and Robotic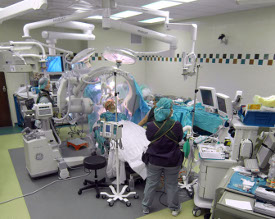 Our goal is to provide patients with the safest and most effective surgical experience. Our surgeons offer the complete range of minimally invasive therapies, for every part of the human body.
Minimally invasive surgery
These surgeries include:
Catheter-based or scope-based interventional treatment
Laparoscopic surgery (Multi-port or single-port)
Robotic-assisted surgery
No-incision surgery via natural openings in the body
Our surgeons and interventional specialists are the most experienced in the safety and quality of advanced surgery. They are dedicated to research, education, and physician training to improve the safety of surgery.
Minimally invasive treatment options for quality care and faster recovery
Bowel Surgery
Carotid Artery Angioplasty and Stenting
ElderSpine Surgery
Endoscopy of the Esophagus, Stomach, and Duodenum
GERD (Heartburn) Surgery with No Incision
Hips, Knees, and Shoulder Surgery
Interventional Pulmonology Therapies
Kidney Disease Surgery
Lung and Airway Therapies
Orthopedic Surgery
Prostate Cancer Surgery
Radiosurgery for Neurological Conditions
Thymectomy for Myasthenia Gravis
Tinnitus Surgery