Prostate Cancer Referral Program
Expert prostate cancer care for your patients.
At Henry Ford Health, our surgeons are pioneers in innovative and minimally invasive techniques for diagnosing and treating prostate cancer. We have one of the world's most experienced teams in the field of robotic prostatectomy, specializing in the removal of prostate cancer while maximizing potential to preserve sexual function and urinary continence.
Our patients experience faster recovery times and less discomfort, blood loss and scarring. Hospital stays are shorter, and men can return to their normal activities sooner.
Henry Ford prostate cancer program: Why choose us?
At Henry Ford, your patients have access to all the care they need. You can expect:
Clinical trials for prostate cancer: Henry Ford offers clinical trials for patients with all stages of prostate cancer.
Executive biopsy: Our team offers a streamlined, one-stop diagnostic process for prostate cancer that can allow for a prostate MRI targeted biopsy and pathology results in less than 48 hours.
Fertility preservation: We provide fertility preservation options, and consultations with our experts can be scheduled within 24 hours.
Multidisciplinary prostate cancer tumor board: Our specialists in surgery, urology, radiation, chemotherapy, nursing, research and other disciplines meet weekly to review each case and develop a personalized treatment plan.
The most advanced and minimally invasive surgical options: Our goal is to preserve urinary function and sexual function and reduce recovery time.
Sexual Dysfunction Rehabilitation Program: Our team of experts, led by a fellowship-trained urologist on sexual dysfunction, provide care to patients who experience sexual dysfunction after treatment.
Virtual telemedicine: Consultations and follow-up visits can be arranged for patient convenience.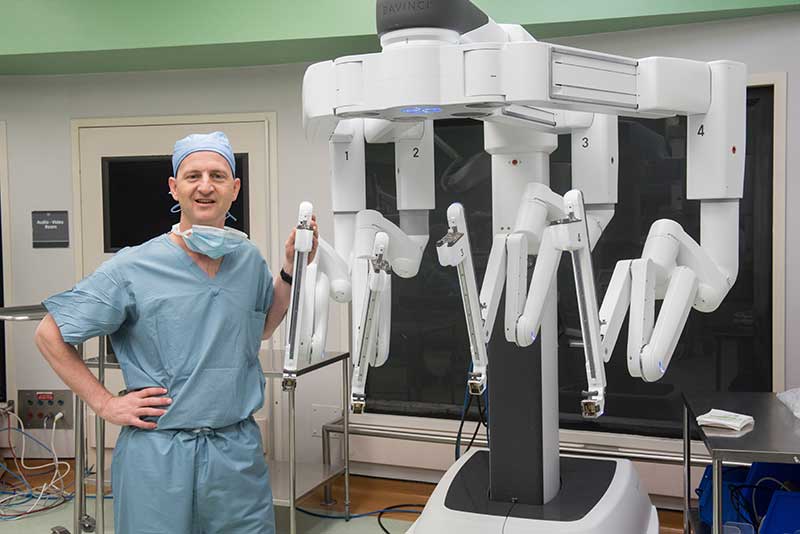 Global experts in minimally invasive tests and treatments
We are innovators of the robotic prostatectomy technique. The Henry Ford team has performed:
16,000+ prostatectomies
10,000+ prostate biopsies
800+ transperineal prostate biopsies, a safer approach that reduces infection risk
As part of our innovative approach to testing and treating prostate cancer, we offer your patients:
Advanced diagnostic techniques
Prostate MRI targeted biopsy: Uses state-of-the-art technology that allows the MRI images and real-time ultrasound images to be fused for a prostate MRI targeted biopsy with improved accuracy.
Transperineal prostate biopsy: Uses a transperineal approach for a safer prostate biopsy technique. Avoids the traditional approach through the rectum to minimize the risk of infection, the need for antibiotics or the need to stop aspirin.
Biomarker tests: Assesses risk and guides management of disease by examining genetic biomarkers using accurate blood and urine tests, as well as biopsied tissue.
Find out more about our advanced diagnostic tests.
Personalized treatment options
Robotic radical prostatectomy: A minimally invasive approach that uses a robot-assisted surgical system to provide a three-dimensional view of the surgical area, increasing precision and control. This technique involves removal of the prostate, seminal vesicles and nearby lymph nodes and adjacent tissue.
Precision prostatectomy: Developed at Henry Ford, this novel, organ-preserving robotic surgical approach for prostate cancer has demonstrated an improved return of sexual function and bladder control.
Focal therapy: Select patients with lower-risk prostate cancer confined to a specific area of the prostate may be eligible for focal treatments. These treatments spare uninvolved portions of the prostate and minimize side effects.
Learn more about our prostate cancer treatments.


Knowledgeable and caring prostate cancer team
We have a multidisciplinary team of experts to help with all aspects of treatment, including:
Preoperative counseling
Anesthesia
Postoperative care
Our coordinated, compassionate care team includes:
Experienced surgeons: Our team includes surgeons who are among the most experienced in the United States and world, having performed more than 1,500 robotic urologic surgeries.
Dedicated nurse navigators: All patients have a dedicated cancer nurse to support their care journey and assist with appointment scheduling.
Centralized evaluation and management: Our follow-up includes review of outside films by specialized radiologists and urologists.
Partnership in care: After evaluation and surgery, patients can be returned to the referring physician to continue follow-up.
Survivorship clinic: Advanced practice providers staff our dedicated post-treatment survivorship clinic to support and help patients navigate follow-up care.
Find out more about our prostate cancer support services.
Fast, convenient referrals
The Henry Ford Referring Physician Office is available 24/7, ensuring your patient has access to the best treatments available and timely appointments. Your patient will be given an appointment within 24 hours and will be seen within a few days of your referral.