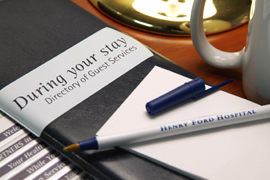 Henry Ford Health understands that making travel arrangements to another city for specialized health care services can be difficult for patients and their families.
Representatives from our Guest Services Program can assist with arrangements for the unique needs patients have while they are in town:
Answer questions related to a patient's visit, hospital admission, family lodging, travel and transportation.
Provide information about banking and currency exchange, and assist in performing these transactions.
Provide information about transportation to and from local airports (helicopter or airplane emergency transport is available, if needed).
For patients or families who do not speak English, Guest Services can arrange to have an interpreter available at the time of arrival or during any part of their stay.
Religious or cultural support is available by request for those wishing to maintain their at-home lifestyle as much as possible.
To contact Guest Services, call (877) 434-7470. Staff is available to assist you from 7:30 a.m. to 5:30 p.m., E.S.T
Lodging Options by Location
Select a location to explore lodging nearby: