Celebrating Milestones and Forgiving Yourself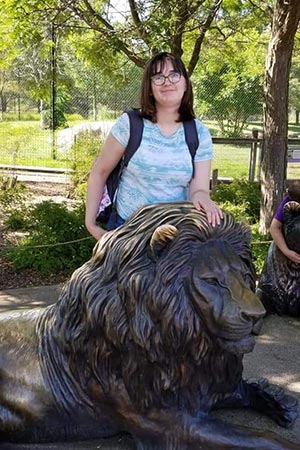 David and Denise Metcalf are the parents of two adult special needs daughters with different levels of impairment. Their oldest is on the autism spectrum with mainly social challenges. Their youngest has a rare genetic disorder.
"People tell us, 'I don't know how you do it,' but we just grew into it," says David. "It's not as if we were a perfect match for our daughters, or there was some twist of fate that they are ours. We learned over time."
Looking back, David realizes getting an early diagnosis was one of the best things they did. "Sometimes you don't want to know, but resources won't open up until you get a diagnosis and start looking into things."
Their oldest, Sophia, is 20 and has Asperger's syndrome in addition to anxiety and depression.
She is beginning the application process for local college classes and volunteer opportunities, and has friends who are also on the autism spectrum. Their youngest, Anneliese, is 19. She has a rare genetic syndrome, HIST1H1E, which includes decreased muscle tone, cognitive impairment, developmental delays, and a number of physiological traits. She also has autism and anxiety. Anneliese goes to a young adult program through the local school district gaining skills in cooking, handling money and budgeting when shopping, taking public transportation, and appropriate types of interpersonal relationships. She takes part in community outings with her school to local spots like restaurants, movies and plays.
The Metcalfs celebrate unique accomplishments and milestones like trying new foods, reading a chapter book, recognizing sarcasm and metaphors, and using new, complex words.
David and Denise are so involved with caregiving that their friendships often suffer, but respite care has helped. David acknowledges that life is stressful, and suggests, "It's nice to have your own therapist and even medication, if needed, to get past difficulties. Reality doesn't change because you ignore it." When things don't go as well as expected, David's advice is, "You are human – forgive yourself and let it go. It's not your fault."
Chat groups online have helped them find advice and common ground. "It's helpful to see that others are in the same boat and to be able to keep a sense of humor," he says. The Metcalfs are connected with the C.A.R.E. Program's resources as another source of support.
While their daughters are young adults, they are still changing and growing. "We get to a lull when things will work for a year or two, and then something changes and we start learning all over again. We always need to be ready to deal with new stuff."
Caregivers with unique needs are encouraged to contact the C.A.R.E. Program's Caregiver Concierge for advice and resources.