Uniting with Caregivers builds Emotional Strength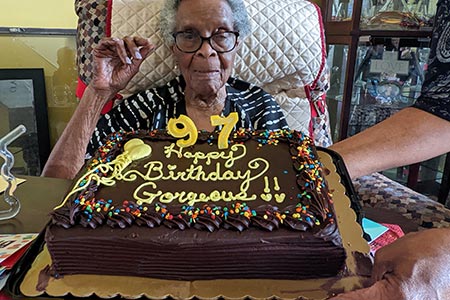 When Peter Holden walked into caregiving, he discovered it was much more involved than he imagined. After having symptoms of Alzheimer's disease, his father passed, and shortly afterward, Peter lost his brother. While grieving those losses and managing their affairs, his now 97-year-old mother's dementia worsened. But Peter believes in running to a problem, not running away from it. "When she was changing in front of my eyes, I realized she needed more care and brought Mom home to live with my wife and I, with help from Henry Ford Home Health Care," he says.
To stay emotionally strong, Peter logs into the Caregiver Support Group online meetings. He always greets his fellow caregivers by saying "Hello, family." Sharing his stories and hearing the triumphs and failures of other caregivers has helped him cope and heal. "It doesn't matter who you are, your beliefs or your background, we are united. Caregiving creates a oneness," he says. The online format means Peter can care for his mom at home and be comfortable when he attends. "I don't have to leave her, get myself ready or drive anywhere!" Peter has taken part in an online dementia care class and visited helpful web sites the C.A.R.E. team recommended.
After several mini-strokes (TIAs), Peter's mother has entered hospice, which he describes as the "best thing to happen since sliced bread. It's more about the living than the dying." He is comforted knowing his mother is not suffering or in pain. And he has his support group family and the C.A.R.E. team to lean on. "Because of the C.A.R.E Program and support group, I know I'm not alone," he says.