As the official healthcare provider for both the Detroit Lions and the Detroit Pistons, we are proud to keep our greatest athletes—and their biggest fans—at their best. But we know that the same strategy doesn't work for everyone. That's why, whether you're a weekend warrior or a soccer mom (or dad!) we create personalized treatments to make you feel like you could keep up with the pros. Even if you'd rather watch from the stands.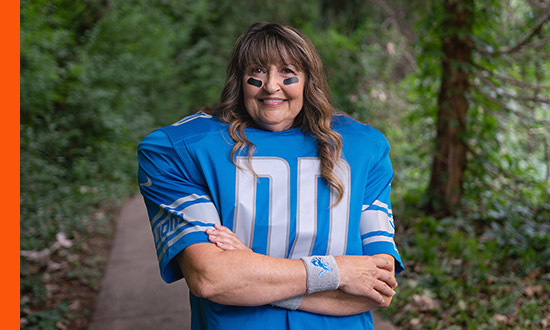 I'm not a Lion, but I have the healthy heart of one.
With two serious heart conditions, Valerie is at high risk for stroke and sudden cardiac death. Her Bluetooth-implanted device—which she was one of the first in Michigan to receive—saves her life every day, in a convenient, tech-savvy way.
---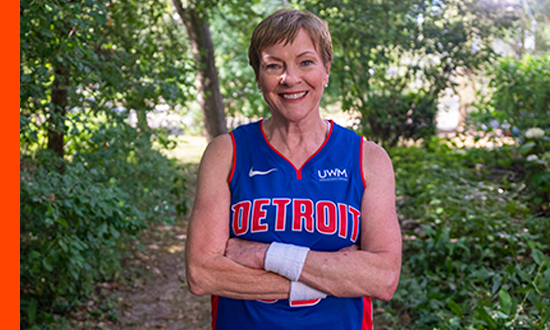 I don't run the pick and roll, but I can run with the best of them.
Minimally invasive surgery repaired Stephanie's spine, using innovative technology that combines navigation and robotics.
---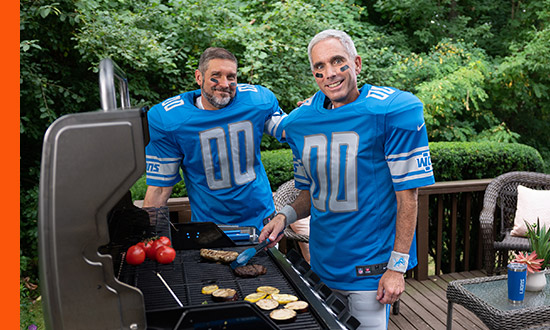 We don't block for each other, but we did team up to achieve victory.
An innovative procedure allowed Mark to donate part of his liver to his brother-in-law David. Just six weeks later, Mark's liver grew back completely—and David was well on the road to recovery.
---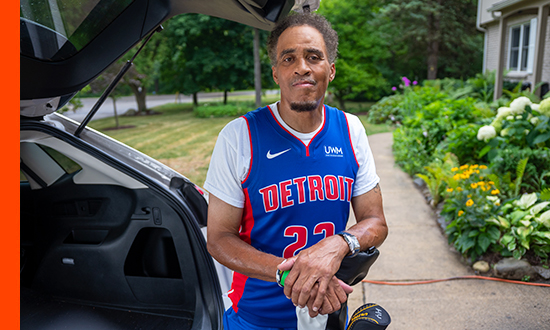 I don't play for the Pistons, but their doctors got me back on my game.
An innocent weight mistake on the butterfly machine split Rashad's tendon in half, without leaving the bone. Eric Makhni, M.D., performed rotator cuff surgery, repairing the tendon and covering it with a bioinductive collagen patch — a newer procedure that heals the tear with a much shorter recovery time.
---
Detroit Pistons and Detroit Lions Partnership
The Detroit Pistons
While we treat the Detroit Pistons, our partnership with them goes far beyond that. Ours is a long-term collaboration that has resulted in a state-of-the-art training, rehabilitation and sports medicine complex. The Henry Ford Center for Athletic Medicine in Detroit—an epicenter for athletes of all levels—combines our medical excellence and innovation with a world class facility that will serve the Detroit Pistons, and the whole community, for years to come.
The Detroit Lions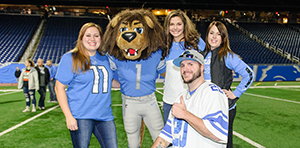 We go way back with the Detroit Lions. Back to the 1950s, in fact. And with our rich, collective histories in Detroit, there's one important thing we always agree on: giving back to our community. We're so proud to partner with the Detroit Lions on a variety of programs, from our longstanding Game On Cancer fundraiser, to the creation of our youth football education clinics, and even a collaboration that outfits the youngest football fans—our newborns—in tiny Lions beanies!
To Fight Cancer, We Need a Team
Game On Cancer knows many patients are juggling life-saving treatments while struggling to get their bills paid. The organization removes barriers to care by providing for transportation, groceries, and housing expenses while funding groundbreaking research and supportive oncology programs. With your help, we can level the playing field against cancer, breaking down barriers or burdens that limit or prohibit cancer patients from receiving care and treatment. Game On Cancer is a joint campaign between the Detroit Lions, Detroit Pistons, and Henry Ford Health, and 100 percent of the funds raised support Henry Ford Cancer Institute patients.
Will you join the team and help fundraise beyond the cure?
Join our team at GameOnCancer.com