This Recovery was Personal
Rashad Harp gets back to the swing of things following a rotator cuff surgery.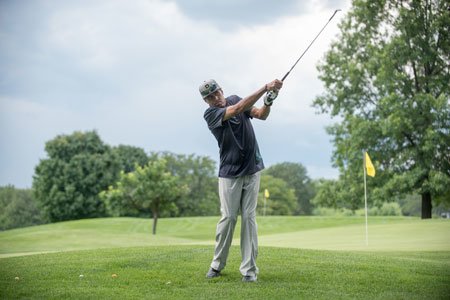 Rashad Harp, a resident of Detroit, was at the gym on a butterfly weight machine. Being an average work out, he never expected that this exercise would change his life for the next year.
Rashad had been seeing Henry Ford sports medicine doctor and orthopedic surgeon, Eric Makhni, M.D., for a small tendon tear in his right shoulder. Then an innocent weight mistake on the butterfly machine split Rashad's tendon in half, without leaving the bone.
He went to Henry Ford West Bloomfield Hospital where Dr. Makhni performed a rotator cuff surgery, repairing the tendon and covering it with a bioinductive collagen patch — a newer procedure that heals the tear with a much shorter recovery time.
Golfing inspires resolve.
Prior to his shoulder, Rashad spent his retirement as an active golfer. He even works part-time as a marshal for the Huntington Woods golf course.
"Every day I looked at those clubs as motivation," he said. "I would pick them up and grip them. All I thought was let's get through the spring. I was shooting for July. I told [Dr. Makhni], I'm playing on my birthday," said Rashad.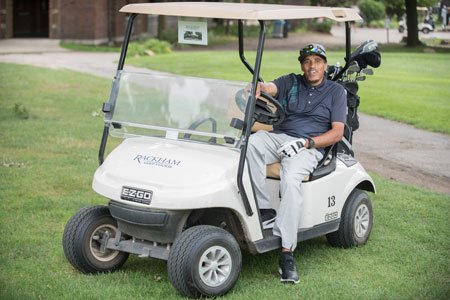 "We followed him every six weeks after surgery as he recovered," Dr. Makhni said. "Once he got his range of motion and strength back, we were able to progress him to getting his functional activities back, which allowed him to get back to golf."
Following his surgery, Rashad went to rehab every day with determination. "I wanted it to work," he said. "I wanted to go at this hard. I was just so determined to get back to my quality of life." He was diligent, performing the exercises from his physical therapist both at the facility and at home.
Rashad was cleared to play his first 18-hole game on his birthday. But for the rust on his swing, one thing was clear: "I had no pain, no pain," he said.