Henry Ford's Commitment to Quality and Safety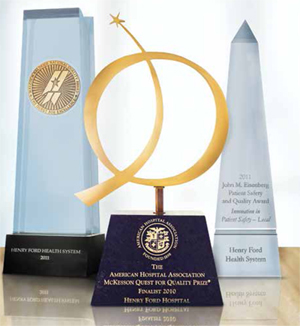 We are a nationally recognized health organization, committed to your healthcare experience. Our focus is in providing you with the highest quality care. Our national honors for healthcare include:
The American Hospital Association – McKesson Quest for Quality Prize
We are a global healthcare leader with a commitment to you and your healthcare experience. At Henry Ford, we:
Believe patients are vital partners in their care and encourage patients to "speak up" with any concerns
Make patient safety our first priority
Treat patients with the same care and concern we want for our own loved ones
Believe in a strong commitment to safe practices and procedures
Believe teamwork and "Speaking Up" are the expectations for all employees and physicians
Our commitment to patient safety
Through our website, we provide available data regarding care quality and safety, and an online contact form, for our patients if they have questions or concerns regarding patient safety.
Our annual quality expo
Henry Ford Health hosts an annual Quality Expo that is hailed as one of the best quality improvement events in the country. This event provides a platform for employees to showcase and be recognized for their work that leads to improved quality, safety and performance as well as new clinical innovations and best practices.
Your role is key
As a patient, you play a key role in the quality and safety of your own healthcare. The more educated you are about quality healthcare, the better decisions you can make for you and your family.
Quality & safety dashboard metrics
Henry Ford is committed to providing the highest quality and safety for all our patients and employees. The quality dashboard reflects important measures for the six dimensions of quality and safety that have been described by the Institute of Medicine (IOM). The Institute of Medicine is a national organization, which helps direct healthcare priorities for the country.
SAFE – care will be safe with the goal of eliminating all harm.
TIMELY – care will be accessible and timely.
EFFECTIVE – care will be evidence-based following national guidelines.
EFFICIENT – we will provide value through reducing unnecessary waste, being efficient, and reducing costs.
EQUITABLE – care is provided to all with no bias.
PATIENT-CENTERED – involving individuals and their families in their care so that it is valuable and meaningful to the individual patient.