Clinical Outcomes after ACL Reconstruction at Henry Ford
Improved Knee Strength and Function by 15.1 PROM score points
Reduction in Pain by 12.3 PROM score points
Improved Mental Health by 6.8 PROM score points
Henry Ford uses Patient-Reported Outcome Measures (PROMs) or PROMIS scores to track the satisfaction and recovery of our patients after surgery. PROMIS scores interpret patient perception of pain, physical function and general mood with a series of targeted questions.
As shown in the graph, our patients experienced significant improvements in physical function, pain and mental health after receiving an ACL reconstruction.
Improvement in Knee Strength and Function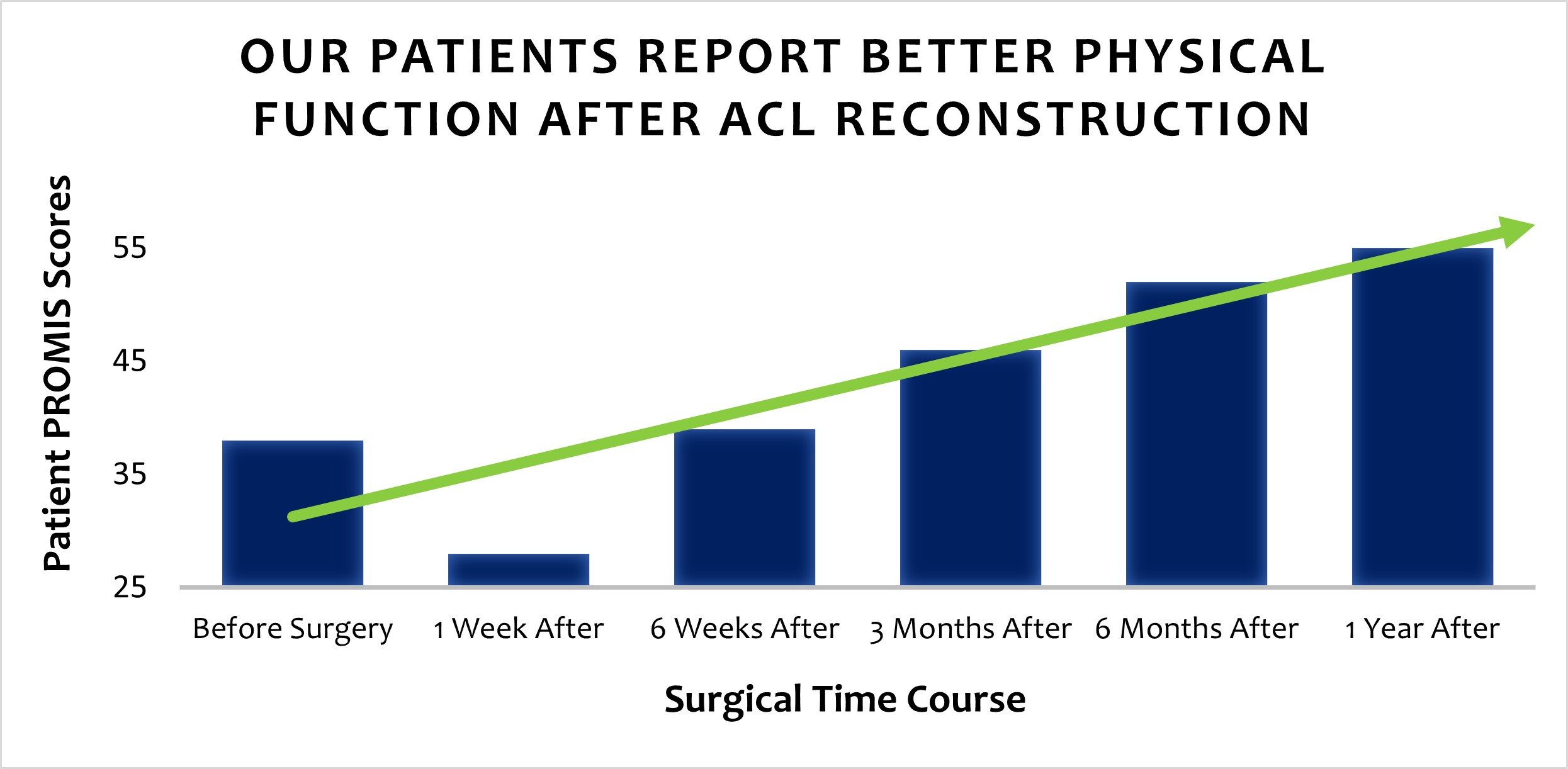 To assess improvements in knee strength and function, our patients told us:
How difficult it is to use steps and stairs
How difficult long or extended walks are
How difficult it is to sit for a long period of time
As shown below, PROMIS Scores from 100 of our patients showed that, on average, physical function improved 15.1 points before surgery to six months after undergoing ACL reconstruction. Our patients felt as though they could move better and with more ease.
Pain Reduction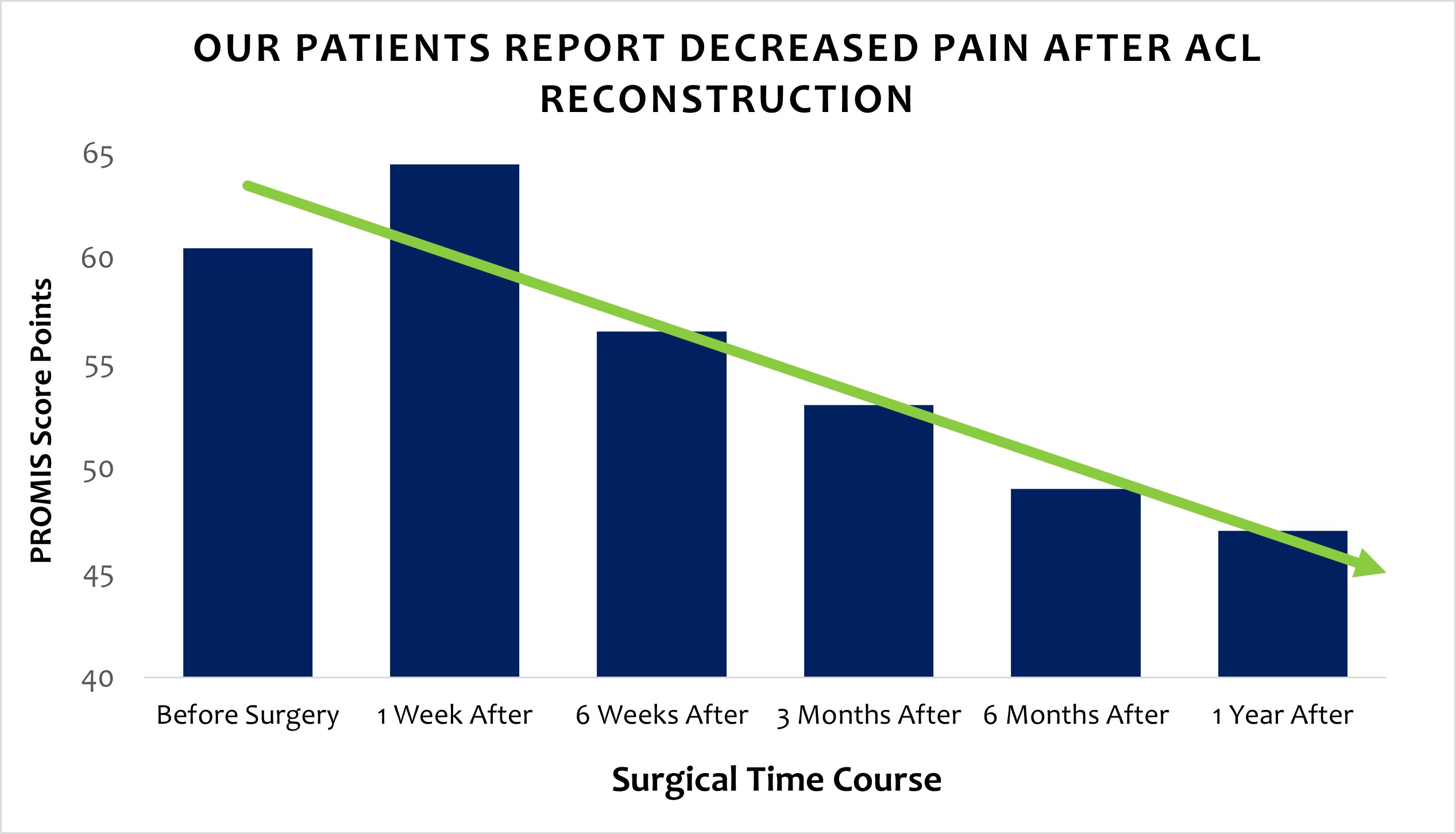 To determine decreased perceptions of pain, our patients were asked questions such as:
How much does pain interfere with your enjoyment of life?

How much does pain interfere with your ability to concentrate?
How often does pain make you feel anxious?
As shown in the graph, PROMIS scores from our patients also showed that perception of pain decreased by 12.3 points before to six months after surgery. Our patients felt as though they were in less pain and overall felt better after surgery.
Improvement in Mental Health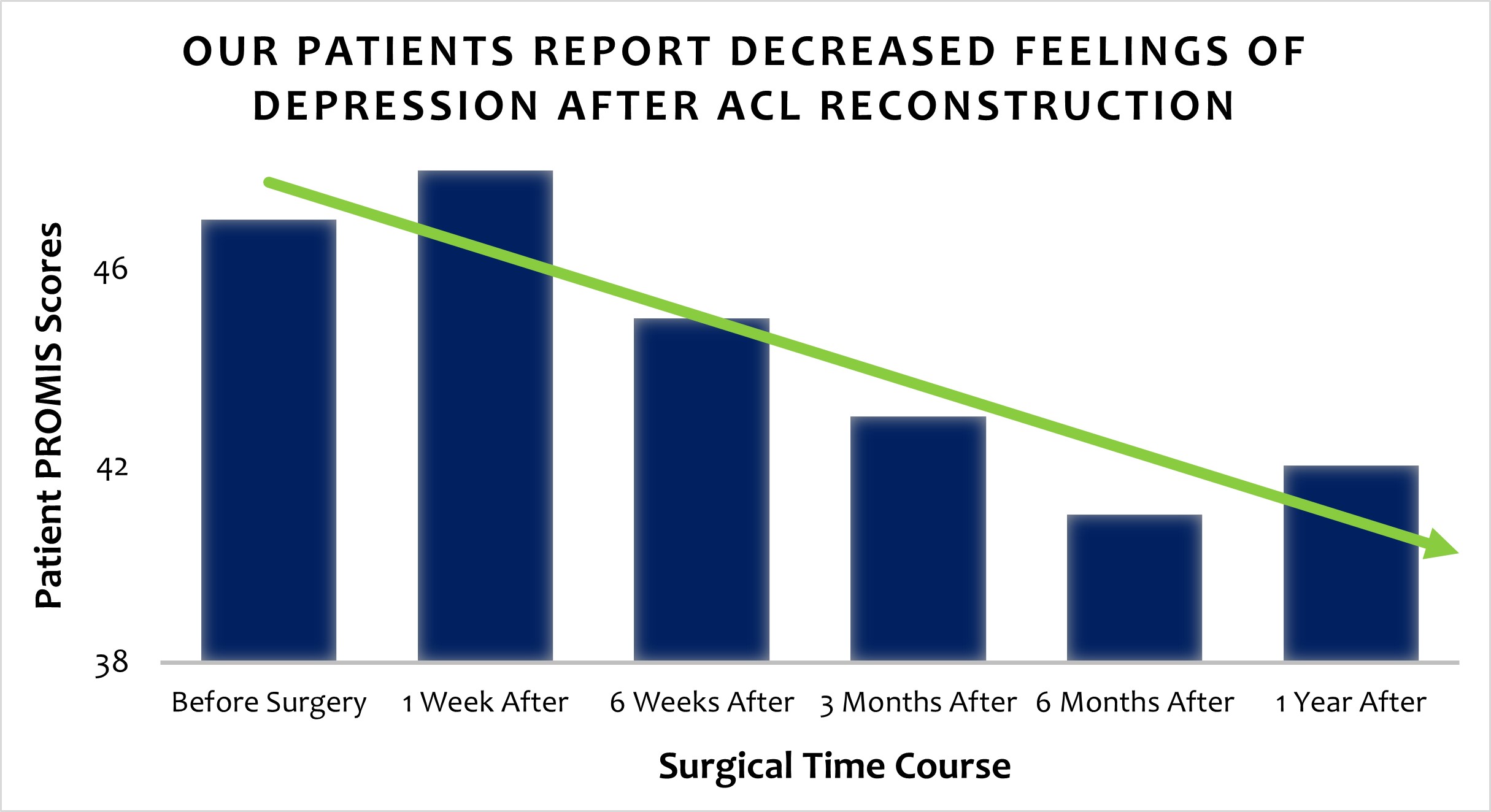 To determine improvements in mental health, our patients were asked questions such as:
Have you felt in low spirits or sad?
Have you lost interest in your daily activities?
Have you felt subdued or slowed down?
Lastly, on average, our patients experienced a 6.8-point decrease in depression. As shown in the graph, these improvements in mental health could be related to their better physical function and decreased pain after the surgery. The PROMIS scores show that after ACL reconstruction, our patients experience an overall increase in their quality of life and improvements in their overall mood.
Read the original published research paper here.
Gulledge CM, Koolmees D, Smith DG, Pietroski A, Franovic S, Moutzouros V, Makhni EC. The PROMIS CAT Demonstrates Responsiveness in Patients After ACL Reconstruction Across Numerous Health Domains. Orthop J Sports Med. 2021 Jan 22;9(1):2325967120979991. doi: 10.1177/2325967120979991. PMID: 33553461; PMCID: PMC7841687.