Henry Ford Health is pleased to offer the availability of its Microsurgical Laboratory, an innovative teaching and educational resource. This 2,500 square foot laboratory is located at Henry Ford Hospital's Main Campus and was completed in 1995.
Microsurgical laboratory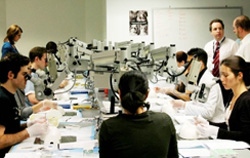 The facility features state-of-the-art Zeiss Surgical Microscopes complete with electronic monitoring, S-VHS, irrigation and central suction. Each of the thirteen surgical stations are multi-discipline and can accommodate a variety of surgical models. Formal Microvascular training sessions are offered with the specific intent of providing laboratory instruction in microvascular techniques that can applied to individual specialties.
All microsurgical supplies, including instruments, suture and surgical models are provided. The instructor's station provides the opportunity to monitor the 12 student stations from one area. It also allows the use of videos and hands-on demonstrations that are projected to each of the student monitors.
Each individual station is equipped for a variety of procedures and specialties:
Phacoemulsification
Temporal bone
Venous arterial and nerve anastomosis
Free flaps
Vas Deferens/fallopian tube repair
Anatomy laboratory
Some of the features of the Anatomy Laboratory include adequate lighting, an ambient room temperature of 55 degrees Fahrenheit and a ventilation system that completes an air change every 12 minutes, enable the handling of 8 embalmed cadavers. A walk-in freezer stores unembalmed specimens and two dissection tables are available, complete with disposal and ventilation hood.
A separate area is maintained for embalmed versus fresh specimens. The Anatomy Laboratory is equipped with an emergency shower and eyewash station. The floor from Stonhard is a sprayed epoxy allowing for complete cleansing and disinfection.
Prior to entering the laboratory, all participants are instructed in the proper handling and utilization of personal protection attire.
Procedures and training available
Basic suturing workshop for medical students
Surgical testing and training site for instrument manufacturers
Opportunity to stimulate upcoming surgical procedures under controlled conditions
Arthroscopy workshops
Endoscopy sessions
Surgical anatomy courses
"We are proud of our Microsurgical Anatomy Laboratory at Henry Ford Hospital. It is one of the finest facilities of its kind in the country. It provides opportunities for students, residents and physicians to learn microsurgical techniques under the expert guidance of laboratory staff and faculty physicians."
Eric Scher, M.D.,Vice President of Medical Education
Contact the Microsurgical Anatomy Laboratory: (313) 916-2029