Message from Program Director and Division Chief
Message from our Program Director Surya Nalamati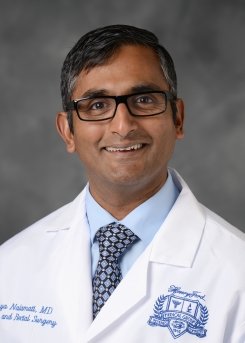 Thank you for your interest in Henry Ford Hospital, Wayne state University Colon and Rectal Surgery Program. We will endeavor to give you a comprehensive picture of our fellowship program on this website. I hope that this information will further motivate you to pursue training here.
Henry Ford Hospital Colorectal Surgery Fellowship is a truly unique program committed to excellence in training and mentorship. We have a dedicated group of accomplished surgeons from various training backgrounds, who are passionately invested in resident/fellow education. You will have a very effective fellowship training by our mentorship, structured didactics and research activities.
Our program provides exposure to diverse colorectal disease pathology and provides a well-rounded training experience. Association with Henry Ford Gastroenterology Department, Inflammatory Bowel Disease Center and Henry Ford Cancer Center ensure strong case volumes for our trainees.
Henry Ford Hospital has always been an early adaptor of emerging technologies. Our trainees are exposed to the whole gamut of surgical techniques including robotic surgery, transanal total mesorectal excision (TaTME), laparoscopic surgery and endoluminal surgery. We pride ourselves in offering the state-of-art treatment options to help our patients on their path to recovery.
As a program director, I can assure you the training at Henry Ford will prepare you to be a competent and confident colorectal surgeon from day one of your independent practice, be it in an academic setting, private practice or a combination of both.
We invite you to join the Henry Ford Family.
Message from our Division Chief Craig Reickert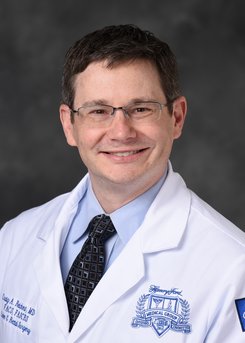 As the Division Head, my job is to make sure our faculty have the fullest opportunity to care for patients with the highest quality and personalized care. Importantly, all of the faculty have a duty and responsibility to teach our students, residents, and our colorectal surgery fellow. We have deliberately selected and recruited faculty, who are both excellent and effective clinicians, who are interested and thoughtful educators.
Our practice is housed in the regional quaternary referral center for advanced colorectal problems. We are fully staffed and supported by all relevant collaborative specialties. Our surgeons have been early embracers of minimally invasive approaches in the region and nationally. We have extensive experience with laparoscopic, robotic abdominal and pelvic surgery. We have additionally added skills with TEM/TEO/TAMIS, including robotic variations of the last 15 years. More recently, we have added TaTME and collaborate with HIPEC therapy for advanced peritoneal disease.
With the structure of the practice, we have created an education model for the fellow to allow the best access to faculty, surgical experience, endoscopy, and clinical environments. As our faculty practice at multiple sites, we encourage and need the fellow to evaluate their current educational needs, the clinical offerings and collaboration with the resident needs. This gives our fellow the primary control of their daily and weekly schedule with the best balance of clinical experiences.