Critical Care Medicine Fellowship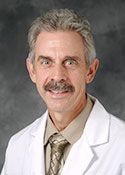 Dr. Daniel Ouellette, M.D.
Division Head
Dr. Jayna Gardner-Gray MD, FACEP
Program Director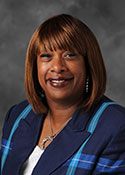 Kesha Brown
Program Coordinator
Welcome
The Critical Care Medicine fellowship at Henry Ford Hospital is one of the nation's top programs for offering Critical Care medicine. Our ACGME approved 2-year Critical Care Medicine Fellowship Training Program provides outstanding clinical training leading to board eligibility in Critical Care Medicine (IM). Patient care, teaching, leadership and research are all essential missions, and the Critical Care Medicine Fellowship underscores these missions with a program designed to provide excellent training in all aspects of critical care medicine.
The Critical Care Medicine Fellowship Program is designed to prepare fellows for academic or clinical practice in various areas of critical care medicine. We emphasize multidisciplinary training and have previously trained fellows with backgrounds in Internal Medicine, Emergency Medicine, combined Emergency and Internal Medicine, Nephrology, Cardiology, and Infectious Disease. We believe the multidisciplinary nature of our program is unique and leads to a more robust learning environment. Our program focuses on evidence based clinical training with robust volumes, an underserved patient base, and exposure to various subspecialities of critical care medicine. Fellows will also benefit from instruction and mentorship from clinical leaders and researchers in the field of critical care medicine.
Our Critical Care Fellowship is complemented by an array of unique training opportunities i.e. extracorporeal membrane oxygenation (ECMO), pulmonary hypertension and transplant, that provide advanced training in different areas of critical care medicine. This exposure enhances the educational experience for our fellows and offers various options for research endeavors. Many of these opportunities are unique to our fellowship and is a testament to our commitment to excellence and innovation in medical education.
Highlights of our program include:
An outstanding fellowship program with highest ACGME accreditation status recognizing the quality of instruction provided to fellows
100% ABIM Critical Care Medicine Board pass rate
Henry Ford Hospital recognized by the ACGME as one of the best teaching institutions in the country, winning the 2019 ACGME Baldwin Award
Active teaching agenda provides fellow education through structured didactics and exceptional clinical, simulation, and procedural training
Critical Care fellows all given opportunity to gain a letter of ECMO certification following the completion of ECMO didactic, simulation, quality review, and clinical management.
Weekly fellow conferences, in addition to conferences in subspecialty fields, are designed to cover topics needed for boards.
Bimonthly simulation sessions in a state of the art simulation center.
Multiple opportunities for interaction with and teaching medical students and residents
Completion of an ultrasound curriculum including didactics, standardized patient encounters, access to sonosim asynchronous learning, and participation in ultrasound rounds.
Extensive and vigorous research in peer-reviewed journals with numerous presentations annually at national and international meetings.
Fellows provided with time and faculty mentors for research as well as biostatistics support.
A commitment to creating an inclusive working environment with education provided on diversity, equity, inclusion, and justice
No 24-hour overnight call- program utilizes a night float system that is distributed among the 2 years of fellowship
Complementary membership for both CHEST and Society of Critical Care Medicine National Societies.
Program places an emphasis on fellow well-being and quality of life in addition to an outstanding training experience
Prestigious alumni and faculty networks actively assist fellows in career placement after training
Henry Ford Hospital
Training takes place at Henry Ford Hospital, which is the flagship hospital and research center of the Henry Ford Health, one of the largest health systems in the nation. Our program is affiliated with Wayne State University School of Medicine and Michigan State University. The hospital is a comprehensive, 877 bed urban tertiary and quaternary care hospital and regional referral center. We are an integrated health care system and non-profit institution. Other highlights include:
One of largest intensive care unit complexes in the country with over 160 adult beds
Center for clinical excellence in many fields including cardiology, cardiovascular surgery, neurology, neurosurgery, orthopedics, sports medicine, organ transplant, and oncology.
One of three level 1 trauma centers in the region.
One of the largest teaching institutions in Michigan – 50 ACGME accredited programs with more than 675 residents and fellows in training, and over 900 medical students annually.
Strong institutional commitment to academic medicine and medical education.
116 residents in our IM residency, which is one of the most innovative programs in the country
Henry Ford Medical Group
The faculty at Henry Ford are members of one of the nation's largest, best organized, and most respected medical groups, the Henry Ford Medical Group. Our staff consists of more than 1,500 physicians and researchers in more than 40 specialties who have trained at the best academic institutions in the world. Our self-governed, employed physician practice program has been praised because of our continuing success. The brightest minds in medicine are attracted to become part of the Henry Ford Medical Group because our organization provides physicians the independence to pursue advanced clinical care while undertaking research as well as academic educational initiatives.
There are no private patients at Henry Ford Hospital - all patients are served by the Henry Ford Medial Group
Physicians are dedicated to evidence-based medicine
We are a national leader in health care and education – faculty have recently been presidents of major professional societies.
Our faculty include the future President of CHEST national society, Dr. John Buckley (2024) and current President of Association of Pulmonary and Critical Care Medicine Program Directors, Dr. Geneva Tatem (2022-2023).
40% of all physicians in Michigan received training at Henry Ford Hospital at some point in their career, and our post-graduate medical education enterprise is among the largest in the country.