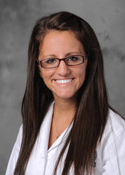 Rebecca Simon, DO.
Current position: Senior Staff Physician, Division of Endocrinology, Henry Ford Health
It is with great pleasure that I share my experience as a graduate from the Endocrinology program at Henry Ford Hospital. I will start by saying that Henry Ford Hospital is a unique training institution that in my experience is unlike any others. It excels in patient care, research, and training. The population is quite diverse, offering an excellent mix of pathology. We serve the poorest of the poor in Detroit but still have much experience with patients from the suburbs, thereby, getting good exposure to all demographics. The institution runs very smoothly and the environment is welcoming and very supportive for teaching.
The experience in fellowship is quite different than residency as it is much smaller and more of a family unit. Staff are extremely supportive and flexible for fellow needs. They are very open to change and truly want fellows to have a good learning experience. In my fellowship, we were always asked how things could improve and any suggestions we made would happen almost immediately. We were supported in research endeavors and encouraged to teach residents and medical students. Our patient exposure was extremely diverse, and we all felt very confident to go on to practice independently. In comparing different programs with other fellows, I constantly felt that our program surpassed others in so many ways. I would rank this fellowship as one of the top clinical fellowships in the country.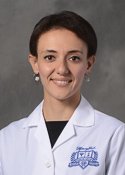 Rahaf Sultan, MD
Current Position: Assistant Professor of Clinical Medicine, Penn Endocrinology and Penn Rodebaugh Diabetes Center
My name is Rahaf Sultan, I graduated medical school from Damascus University, Syria. I completed my internal medicine residency at William Beaumont Hospital in Royal Oak, MI. I moved to Henry Ford for my Endocrinology fellowship from 7/2017 until 6/2019. At Henry Ford, I was exposed to many different disease pathologies, diverse patient population and different resources for learning, including weekly lectures, journal club, case conference, thyroid cancer tumor board, thyroid cytopathology conference, pituitary MRI conference and the Sladen library. In addition, our mentors are very proactive in ensuring we see all the rare disease processes such as pheochromocytoma, MEN 2, among others. After graduating, I was more than prepared to practice on my own, as was corroborated by my previous co-fellows.
Our faculty is exceptional, they are very receptive to trainee feedback and suggested changes happen immediately. They are always available for help and guidance. I was fortunate to be a part of this small and tight family who care about each other professionally and personally. If I go back in time, I would choose Henry Ford Endocrinology fellowship again!
Kevin Borst, DO
Current position: Staff Endocrinologist at Cleveland Clinic
After completing my internal medicine residency at Metro Health Hospital in Cleveland Ohio, I accepted an endocrinology fellowship position at Henry Ford. I feel that my training at Henry Ford was outstanding for several reasons. First and foremost, the staff at Henry Ford has a true interest in the education of its fellows. This was apparent from my first week at the program. They expected a lot from us, however, and we were rewarded with a fund of knowledge that left us well prepared to start our practices upon completion of our training. There were ample research opportunities in multiple endocrine subspecialties- with staff available to foster and as assist us. We were all able to present our research at national meetings which was a wonderful experience and learning opportunity. The clinical training, we received, was also excellent. We were able to see a large volume of diverse patients and review these cases with experts in these fields. I feel like this left me well prepared to treat any patient when I started my practice- and now, 10 years later, I can say with confidence that this was true. I would highly recommend Henry Ford to anyone that is interested in a high quality endocrinology fellowship program.
Endocrinology Fellow Alumni:
2021:
Mingxue Arguello, DO: UT Health East Texas Physicians, Tyler, TX
Jaspreet Hehar, DO: Private Practice, St. Clair Shores, MI
2020:
Supriya Todkar, MD: Indiana University Health Ball Memorial Hospital
Swati Kumar, MD: Private Practice, Shelby Township, MI
2019:
Sabrina Huq, MD: Private Practice, Queens, New York
Rahaf Sultan, MD: Perelman School of Medicine, Philadelphia, Pennsylvania
2018:
Lakshmi Das, MD: Parkview Health, Fort Wayne, Indiana
Rebecca Simon, DO: St. Mary's Hospital, Tuscan, Arizona. Joining Henry Ford Health 9/2020
2017:
Vaishali Thudi, MD: Baptist Health, Montgomery, Alabama
Semira Gopie, MD: Private Practice, Trinidad
2016:
Reshma Ramakrishnan, MD: Private Practice, Rochester Hills, Michigan
Durga Yerasuri, MD: St. Joseph Mercy, Livonia, Michigan
2015:
Rashim Gupta, MD: Novant Health, Charleston, North Carolina
Sunil Thomas, MD: Capital Health, Pennington, New Jersey