Vitreoretinal Surgery Fellowship
Overview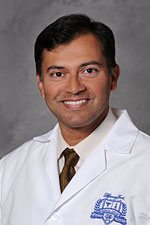 Uday Desai, M.D.
Program Director
Toni Haddad, C-TAGME
Program Coordinator
The Vitreoretinal Fellowship has one open position per two-year period. The fellowship is a comprehensive medical and surgical fellowship which includes all aspects of the specialty.
Education
This is a two-year comprehensive training program, which provides the highest possible level of clinical education regarding the diagnosis and management of surgical and medical diseases involving the retina and vitreous. During the fellowship, the fellow will work closely with the faculty in the clinics and operating room, and the fellow will learn to provide the most up-to-date care utilizing the most recent results of clinical trials.
Clinical and surgical experience
The fellow will start in the operating room on day one, and will be provided increasing surgical responsibility over both years of training. In the operating room, extensive experience is gained in scleral buckling, vitrectomy techniques (including bimanual techniques for membrane dissection, use of wide-field viewing systems, 23 and 25-gauge vitrectomy, etc.), the management of ocular trauma, complex retinal detachments, and a wide variety of surgical cases. The fellow also has the option to participate in the management of retinopathy of prematurity.
During the fellowship, the fellow can expect to perform 300+ primary retinal surgeries, 500 retinal lasers, more than 500 intravitreal injections, and photodynamic therapy treatment during his or her training.
The fellow will spend time in the clinic seeing a diverse patient population. Two full days per week are spent at the OptimEyes Clinic located in Troy, Michigan and one and a half days are spent seeing patients at the Main Henry Ford Campus in Detroit, Michigan. Surgeries are performed at Henry Ford Hospital Detroit as well as the Cottage and West Bloomfield locations.
Academics
Participation in regular departmental teaching conferences is expected. Grand rounds are held every Wednesday morning. The fellow is involved in the quarterly Retina Journal Club as well as holding IVFA/imaging conferences for the residents. There are additional opportunities to teach residents and medical students as the schedule allows.
Salary & benefits
This fellowship is funded by the Henry Ford Healths, which provides salary support, medical malpractice insurance, health benefits, and parking. All fellows carry an academic appointment through Henry Ford Health as an Associate Staff/Clinical Instructor. First and second year fellows will be paid at the PGY-5 and PGY-6 levels, respectively, as established by the office of Graduate Medical Education.
Licensure
Fellows must have an active, unrestricted Michigan state medical license prior to joining the fellowship program.
Period of training
Fellowship Training will begin in July and continue for 24 months.
Ancillary services and equipment
The Henry Ford retina service boasts an ophthalmic photographer staffed imaging division that is equipped for standard fluorescein angiography, indocyanine green angiography, autofluorescence, optical coherence tomography, and anterior segment / slit lamp photography. There is also a dedicated ultrasound / biometry suite staffed by a full-time, professional and certified ultrasonographer. All retina exam lanes and laser suites are equipped with a networked OIS/Merge fundus digital imaging system. The laser suite is equipped with a Pascal pattern scan laser, Nidek pattern laser, and Zeiss Visulas laser with access to green, yellow, and red wavelengths.
Application process
Applicants for the Retina Fellowship should apply to the SFMatch and complete the CAS Fellowship application.