Family Medicine Resident Curriculum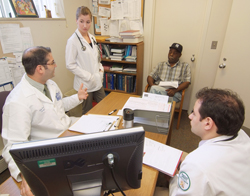 Both common and complicated patient and family problems are encountered and taught in several settings. Curriculum components, including both rotational and longitudinal experiences, are set in ambulatory primary care and specialty practices, regional hospitals, tertiary care hospitals, community health centers, schools and homes, taking advantage of the breadth of services offered by Henry Ford.
View our M.D. Curriculum Block Diagram
Current residents feel that it is an advantage having multiple residencies in the hospital. Attending physicians from all specialties take their responsibility to teach Family Medicine residents very seriously which creates a truly exceptional learning environment. Residents learn the most up-to-date approaches to clinical practice like evidence-based medicine, disease state management, population health, resource management, computing in medicine, quality improvement methods and the latest information on safety in medicine. Residents emerge from the Henry Ford Family Medicine Residency Program extraordinarily well-prepared to face the challenges of a changing health care environment.
The family medicine-specific aspects of the curriculum emphasize the department's strengths and achievements in serving in an urban clinical practice and research. The experience of caring for a diverse population of patients in diverse settings has allowed the department to be uniquely strong in attracting faculty and residents with a special interest in urban practice. The practices, which have become the primary ambulatory training sites, are vital to the Detroit community for their roles in improving health status where morbidity and mortality rates often exceed national norms.
View a Weekly Schedule for our House Officers
The high level of acuity and historically inadequate access to compassionate and competent health care means residents make a significant difference in the lives and well-being of their patients even while they are in training. Their training experience prepares them especially well for urban practice, although graduating residents can successfully pursue a wide variety of careers. Goals and Objectives for each rotation are available online and are sent out monthly. Evaluations are also online and are sent out monthly to teaching faculty and residents.