Thank you for your interest in our combined Allopathic and Osteopathic Family Medicine Residency Program.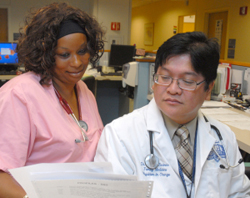 You must apply through ERAS (Electronic Residency Application Service). Applications are not reviewed unless accessible thru ERAS.
Incomplete applications will not be reviewed.
All applications which meet the requirements are reviewed on a weekly basis. If selected for an interview you will be notified via email.
Applications are accepted through December 1st for the following academic year.
Interviews are conducted October through mid-December.
Please review the application requirements listed below.
If you have additional questions about the program please contact Mary Uryga at (313) 874-5378 or via email.
Residency requirements
You must be a permanent United States Resident or United States Citizen, or on a J-1 visa.
There is a time limit of two years from the date of your graduation from medical school and your application to the program.
Thank you for your interest in Henry Ford Hospital – Wayne State University Family Medicine Residency Program.