The Department of Radiology at Henry Ford Hospital welcomes candidates of all races, ethnicities, religions, countries of origin, genders, sexual orientations, ages, and abilities.
With special recognition of the underrepresentation of women, Black, Latinx, American Indian and Pacific Islanders in radiology, the Henry Ford Radiology Diversity & Inclusion committee was founded in 2020. Our mission is to promote a more diverse, equitable and inclusive environment for our residents, faculty, departmental staff, and patients through individual, departmental, hospital and local initiatives focused on education and awareness.
Our mission will be accomplished through:
Bimonthly committee meetings/outings
Biannual newsletter
Dedicated diversity, equity and inclusion (DEI) educational conferences three times per academic year

Journal club
Small group interactive sessions
Grand rounds featuring a prominent speaker on DEI in radiology

Committee member and departmental-wide DEI module completion
DEI book club
Updated recruitment strategies

Mentorship
Local medical school outreach
Post-interview engagement with underrepresented candidates

Advocacy and consultation
Henry Ford Health is also committed to creating an inclusive and diverse workplace. Please see the Health System Diversity and Inclusion page for additional details.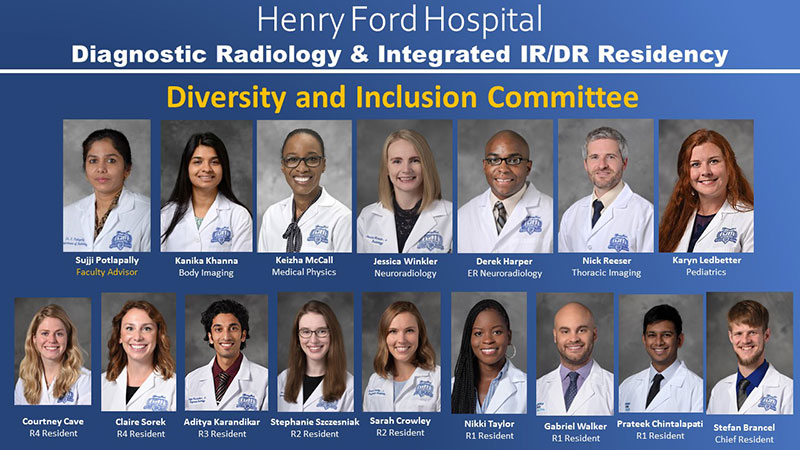 Women in Radiology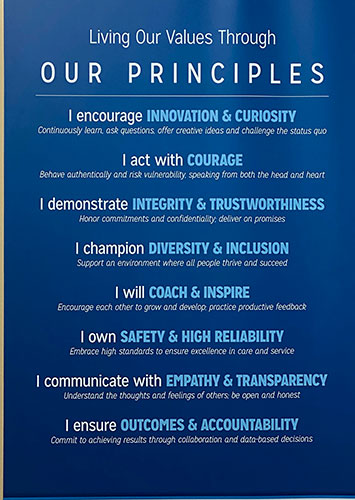 The Women in Radiology group was started in 2019 to support and promote women physicians and scientists in the Department of Radiology at the Henry Ford Health.
Our vision is to provide an equal opportunity environment for women medical students, residents and senior staff to progress in their careers and also to increase gender specific awareness for all in the Department of Radiology.
We have several events during the year (in-person or virtual) including mixers, book clubs, interesting speakers and outdoor activities.
In addition to career sustainment and advancement, the group focuses on wellness, work life integration, time management, and diversity in science and leadership. But most importantly, we provide a network and support system for our women physicians that will last throughout their careers.