IR-Integrated Residency: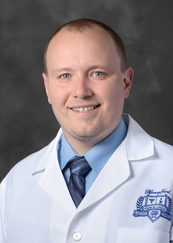 Garret Greer PGY-5
Garret was raised in a small town in mid-Michigan and spent a majority of his life skateboarding and snowboarding. He first went to school for radiography and became a registered x-ray technologist. During his training, he discovered Interventional Radiology and realized he would rather be an Interventional Radiologist. He went on to complete his undergraduate studies at Central Michigan University and medical school at Michigan State University College of Osteopathic Medicine. He is married and has two children who occupy a majority of his time when he isn't at work or studying. Garret enjoys hanging out with his family, golfing, skateboarding, snowboarding, camping, kayaking, and biking. His interests within IR primarily lie in Interventional Oncology.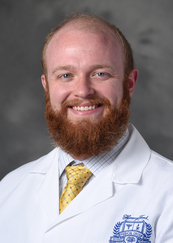 Jack Ogilvie PGY-4
Jack Ogilvie, for better or worse, is a product of Ohio – he was born and raised in Cincinnati. He went on to study at Denison University, where he graduated as a physics major and music performance minor on trumpet (and possibly also sang in an acapella group). Medical school followed as he returned home to attend the University of Cincinnati College of Medicine. Originally interested in surgical specialties, a persistent interest in physics, combined with the desire to perform procedures, led Jack to pursue Interventional Radiology. He made his first real foray out of the state down south when he matched into the Integrated IR residency at Henry Ford.
Jack currently resides in Royal Oak, north of Detroit, where he enjoys exploring the local restaurants and, even more prominently, breweries. In his free time, Jack spends plenty of time cycling – more recently getting into bikepacking – and playing golf and board games with his fellow residents. Music continues to play an important part of his life as well, both from a listening and performing standpoint, primarily on piano these days.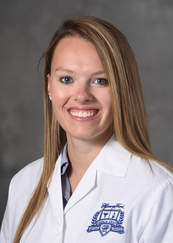 Alexandra Morris PGY-3
Alexandra grew up in West Michigan and received her undergraduate degree in Chemistry from Kalamazoo College where she played on the golf team and spent her junior year studying abroad in Copenhagen. She then attended medical school at Wayne State University School of Medicine and graduated in 2019. Her hobbies and interests include, kayaking, yoga, cooking and eating good food.

Peter Nesbitt PGY-2
Pete Nesbitt is from Buffalo, NY; a first-generation college graduate, he spent his early years working on his father's apple farm. He graduated from Grove City College with a Bachelor of Science in Chemistry and from there he completed his medical degree at Lake Erie College of Osteopathic Medicine.
Pete has always had a passion for problem solving and innovation, two of the biggest attractions of the interventional radiology field. With his skills in leadership developed as president of his graduating medical class, and accompanying work ethic that was cultivated on the farm, IR is an ideal field, as it is incredibly innovative and requires pioneers to continue its development. Pete is extremely excited to begin his residency training at Henry Ford Hospital. The hospital's IR department has a high level of complexity and autonomy that is available to the residents, even in the early years of training. Pete is fully confident that he will receive the teaching and experience at Henry Ford which will enable him to be an outstanding physician. The combination of high-level diagnostic and interventional radiology training makes Henry Ford unique in its ability to create leaders in the field, with numerous career pathways available.
In Pete's free time he enjoys the outdoors, woodworking, and dog training. Although, he is a die-hard Buffalo Bills fan, (#BillsMafia), he is slowly becoming a fan of Detroit, its local sports teams, and getting to know the city with his wife and mini goldendoodle.

Jacob Gacke, MD PGY-1
Jacob is from La Pine, Oregon and received his undergraduate degrees in biochemistry and business administration from the University of Oregon. He completed medical school at the Lewis Katz School of Medicine at Temple University. His interests include intramural sports, camping, fishing, kayaking, fantasy novels, video games, brewing kombucha and trying new IPAs.
IR-Independent Residency:

Omar Jamil PGY-7
Dr. Jamil was born in Baltimore. He studied history at The George Washington University prior to attending medical school at Ross University School of Medicine. He spent 2 years as a surgical resident at Rutgers NJ before transferring into Diagnostic Radiology at the same institution. He authored or presented at least 13 projects during his residency. He enjoys sports, reading, working out, and travel.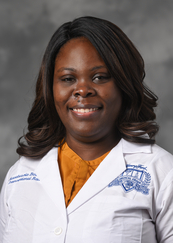 Oluwabusola Binutu (Busola) PGY-7
Dr. Binutu was born in Nigeria. She completed her undergraduate degree in Biochemistry at Cornell. She then attended Indiana University for medical school. She began as a surgery resident at Medstar Washington Hospital where she completed 2 years of training. She then transferred into Diagnostic Radiology at St. Francis Hospital in Evanston IL where she finished her training. She reads one non-fiction book every month. Her other interests are cooking, watching sports, and marathon training.