Rotations in Nephrology and Hypertension
Consults
Transplant
Outpatient Dialysis
Interventional Nephrology
Plasmapheresis
Palliative Care
Research/ Electives
Sample Rotation Schedule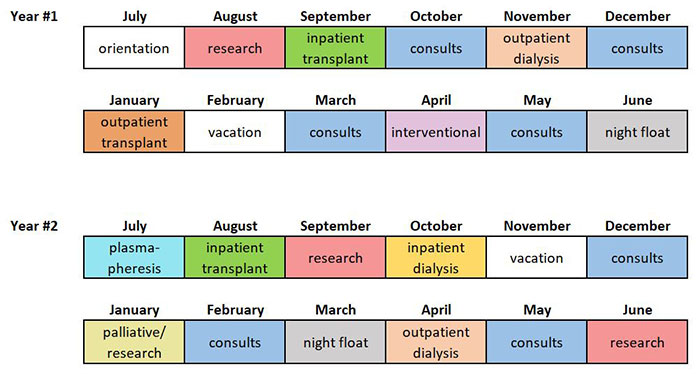 Fellows receive extensive experience in all modalities of dialysis during rotations on the consultation service and the outpatient hemodialysis unit. Fellows are responsible for most temporary central venous hemodialysis catheter placements and for orders related to dialytic procedures, with staff supervision.
Fellows are assigned chronic in-center and home hemodialysis and peritoneal dialysis patients to follow monthly in longitudinal fashion. Fellows see these patients with supervision and mentoring by Nephrology staff. In addition, fellows see hemodialysis patients during the outpatient dialysis rotations.
During the course of their fellowship, fellows have the opportunity to select five electives in clinically related specialties. These elective opportunities may include:
Medical intensive care
Transplant surgery
Vascular access surgery
Interventional nephrology
Urology
Rheumatology
Additional months in outpatient dialysis, radiology, toxicology, and renal pathology
As fellows progress during the fellowship, their level of individual responsibility and decision-making autonomy increases. In addition, the fellow's participation in the education of residents and medical students also increases. One chief fellow in the second year is also selected to assist with developing call schedules and solving administrative problems as they arise.
Nephrology fellows receive written evaluations from their senior staff supervisor following each rotation. These are distributed electronically, and confidentially, to the fellows. Fellow evaluations are reviewed quarterly, in aggregate, by the Clinical Competency Committee, comprised of core faculty members. Remedial action is required for any fellows who demonstrate significant deficiencies on their evaluation forms.