Rami Al-Hader, M.D.
Class of 2023
Reasons why I ranked Henry Ford #1:
The outstanding learning opportunities and diverse patient population exposure
Easy dynamic flow and great relationship between all residents in different classes as well as residents and staff
Diversity among the residents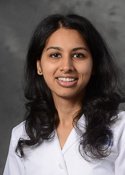 Ritika Suri, M.D.
Class of 2021
I interviewed at the program 4 years ago. There were a couple of things that stood out for me; all the residents got along with each other and it seemed genuine and not presumptuous. The program was very cultural diverse with residents from all across the world and the fact that so many attendings actually did their residency and stayed here. That spoke volumes in itself. Everyone I spoke to about the program told me that if I trained here I would be trained very well and I am glad I made the decision. The last 3 years have been an amazing experience both personally and professionally and I would recommend this program without a doubt.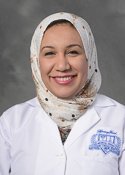 Ghada Mohamed, M.D.
Class of 2021
I always loved stroke, I always hoped to be a good stroke neurologist and in order to get there I knew I should have good clinical experience as a resident before fellowship. Given the wide catchment area, our department receives a lot of patient every day. Residents are the primary responders for the stroke codes, under direct professional supervision by the stroke staff and fellows. We give TPA and we can assist in mechanical thrombectomies. We have comprehensive weekly stroke board meeting to discuss all the interesting stroke patients. I feel very ready to graduate with excellent stroke knowledge background.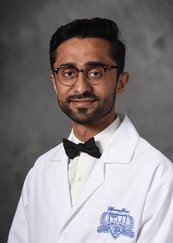 Muhammad Fraz, M.D.
Class of 2023
I did a Neuro ICU rotation here at Henry Ford while I was a medical student. Coming from an international medical school, I really found this program to be very strong in regards to providing learning opportunities. The didactics I attended during that rotation were really helpful and I liked how all the senior staff interacted with the residents and medical students. Moreover, all Neurology residents I interacted with were super helpful and courteous. On the pre-interview dinner and interview day, I noticed that a real sense of comradery prevailed among the junior and senior residents. I believe that program director and program coordinator are the ones with whom you interact the most during the residency period and I have no doubt in saying that our PD and PC are the best among the ones I came across during the interview season.

Anirudha Rathnam, M.D.
Class of 2020
I'm definitely glad I chose Henry Ford. The sense of community here is incomparable to any other place. It's not just the hospital system; I think it partly stems from the camaraderie and compassion you can see around the city of Detroit. Not only are we residents a tight-knit bunch, but the support we get from our attendings and even our patients is incredible. I've had patients who have given me words of encouragement when I'm feeling the slightest bit down and that has inspired me to read more so that I can help them. I've had an amazing series of mentors in this Neurology Department, both officially and unofficially.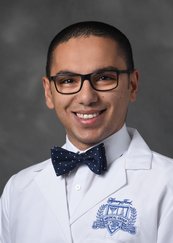 Hassan Aboul-Nour, M.D.
Class of 2022
When I was applying, I was thinking of a place where I can blend in. Henry Ford being one of the most diverse workplaces gave me that opportunity. We as residents are like a small family not just inside the hospital but outside as well. Our attendings are very approachable and easy to work with. We have a great balance between education and autonomy with lots of research opportunities especially with our diverse demographics and the myriad of pathologies that we see.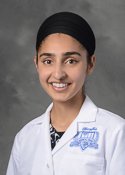 Jyotika Singh, D.O.
Class of 2021
Henry Ford Hospital is truly a great place to train based on my experience as a resident! I am currently a PGY-4 and feel that I have had the opportunity to treat to a wide variety of neurological conditions. The neurology program has great attendings to look up to and my co-residents have become some of my best friends! I am grateful to have had the pleasure of training at this amazing institution.