Orthopedic Surgery Residency
It is my pleasure to extend to you a warm welcome to the Henry Ford Hospital Orthopaedic Surgery Residency Program!
The primary purpose of our residency training program is to cultivate well-rounded, skilled, knowledgeable, compassionate and ethical orthopaedic surgeons. A graduate from this program will be able to begin independent practice without further subspecialty training. However, as is now the current trend in orthopaedics, the majority of our residents pursue subspecialty training and, in recent years, have been able to secure some of the most prestigious fellowships in the country. We are quite proud of what each of our graduates has accomplished.
Our program is approved for six residents in each class and fully accredited through the Accreditation Council for Graduate Medical Education. Our educational curriculum is designed to meet all of the requirements to begin the process of American Board of Orthopaedic Surgery certification upon graduation.
This is an exciting time to be involved in surgical education, and Henry Ford is positioned at the leading edge in working to create these changes. We have all of the infrastructure that it takes to make a top-notch training program (a Level I trauma center and regional tertiary care referral center, an outstanding suburban community hospital, state-of-the-art simulation center, exceptional research facilities, etc.), but it is the people who define our program. Our faculty and staff all have a true passion for education, research and service, and we look for this same dedication in our residents.
This is a time of great growth and renewed prosperity in Detroit and Southeast Michigan. Our downtown and midtown areas are bustling with energy. I hope you have a chance to look around our city and see some of the renaissance for yourself.
Interviews will be held on Tuesday, January 10, 2023, Thursday, January 19, 2023 and Monday, January 23, 2023.
More importantly, I encourage you to spend some time with our faculty, staff and residents. Get to know who we are and how you might fit into our family.

Sincerely,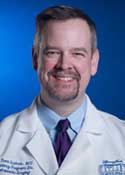 S. Trent Guthrie, MD, FAOA
Residency Program Director
Clinical Assistant Professor, Wayne State University School of Medicine
Department of Orthopaedic Surgery, Division of Orthopaedic Trauma
Henry Ford Medical Group