Primary Care Sports Medicine Fellowship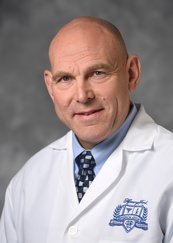 James L. Moeller, M.D., FACSM
Program Director
Fellowship Coordinator: Sally Braden
The one-year Primary Care Sports Medicine Fellowship is an opportunity to train with some of the industry's leading experts in athletic medicine. Up to three fellows are accepted each year.
Henry Ford has long been synonymous with excellence in athletic medicine. Fellows have exposure providing medical and orthopedic care to athletes at all levels of competition including the collegiate, high school, and professional levels, including experiences with teams like the Detroit Pistons.
From day one, the challenging curriculum provides a solid foundation for Primary Care Sports Medicine. Fellows are immersed in a broad range of educational topics – exercise physiology, musculoskeletal imaging, sports surgery, orthopedic trauma.
The fellowship is anchored by strong support from a large faculty of fellowship-trained sports physicians and surgeons, as well as orthopedic surgery specialty physicians. The fellowship is designed to be an interesting, challenging, informative and fun year, focused on broadening the Fellow's experience and expertise in the field of sports medicine