Welcome to Henry Ford RAD-AID
Henry Ford's outreach journey began in 2013 when our RAD-AID chapter was founded by residents, faculty, and technologists who were interested in improving access to radiological services in developing countries. Our mission mirrors that of RAD-AID International, in that we aim to foster sustainable imaging efforts in underserved communities through education and collaboration. Membership is open to anyone within Henry Ford Health. Below you will find brief descriptions of a few of our projects and collaborations. If you would like more information, please contact our chapter president, Dr. Karyn Ledbetter.
RAD-AID
Since 2021, Henry Ford Health has been the chapter sponsor of RAD-AID Laos, which is centered at Lao Friends Hospital for Children (LFHC). Through this collaboration, we regularly provide pediatric imaging lectures/webinars and case consultations via WhatsApp using Ambra cloud-based PACS. Our first trip to Laos is planned for early 2023, which will be education-based focused on radiograph/ultrasound interpretation, ultrasound and fluoroscopy imaging techniques, and basic ultrasound-guided procedures.
Between 2016 and 2020, our chapter has also partnered with RAD-AID Nicaragua, RAD-AID Peru, RAD-AID Kenya, and RAD-AID Grenada with work in ultrasound, breast imaging, pediatric/fetal imaging, and physics support.
New collaborations are underway to help establish projects in Jordan and in Native communities in the US. IR/DR and ESIR opportunities in Ethiopia, Kenya, and Vietnam are also being explored.
Kenya Relief
Henry Ford Health radiology outreach has been in partnership with Kenya Relief (please add link to www.kenyarelief.org) since 2017. Although a well-established organization with extensive contributions to the community of Migori, Kenya Relief's Brase Clinic lacked radiological services.
Since forging our relationship, our chapter has been onsite at the Brase Clinic six times, most recently in April 2022. Across our visits, nearly 1000 patients have had ultrasounds they otherwise would have gone without, which allowed for quicker and safer surgeries.
Our most recent trips have included radiologists and sonographers working as part of a breast cancer screening team, where imaging, ultrasound-guided biopsy and eventually breast surgery were performed in this underserved region that previously had zero access to breast cancer screening.
Future trips will focus on implementing PACS in the clinic to allow for collaboration with Aga Khan radiologists and remote assistance by HFH radiologists. Kenya relief also recently broke ground on a maternal-fetal unit, and our chapter is excited to support this new unit with our pediatric and obstetric ultrasound expertise.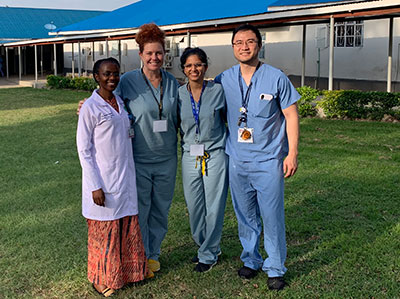 Ultrasound Training Sessions
In an effort to properly equip our members with all of the skills necessary to educate partners abroad, we have established a formal ultrasound training curriculum led by experienced sonographers. Throughout the course of these sessions, residents develop a strong foundation in basic image acquisition and optimization. In addition to becoming competent in performing routine ultrasound examinations, residents also learn how to troubleshoot and improvise, skills that are critical when working in underserved areas.