Former Residents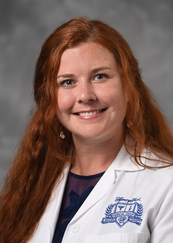 Karyn Ledbetter, MD
Resident Class: 2016
Fellowship: Cincinnati Children's Hospital Medical Center, Pediatric Radiology
Current Position: Henry Ford Health,
Section of Pediatric and Fetal Imaging, Section of Ultrasound
Director Henry Ford Chapter RAD-AID
Director of Medical Student and Rotating Resident Education at Henry Ford
"You can't do that in radiology" was a statement I nearly universally heard when attending residency interviews in 2010; at that time, the concept of a radiologist driving community and international outreach to combat poor health outcomes was effectively non-existent. Nevertheless, my interview with Henry Ford radiology left me hopeful that my dream of starting a RAD-AID chapter at my future residency program was within reach. When combined with the ideal balance of teaching, research, case volume and case complexity in a diverse environment, the decision to rank Henry Ford at the top of my list was clear.
Throughout my five years as a radiology resident, my hopes quickly turned to reality. I received the unwavering support of then program director, Dr. Eric Spickler, and radiology chairman, Dr. Manny Brown. This guidance allowed me to form a radiology outreach group as a first-year resident through which Henry Ford residents provided remote interpretation of CT scans from Haiti, participated in monthly RAD-AID teaching webinars, and developed radiology learning modules to be used locally and abroad. My co-residents and I presented our efforts at several annual national RAD-AID conferences. We also created specialized resident ultrasound training sessions to develop the skills needed when teaching and scanning abroad.
To date, our chapter's efforts have resulted in two service trips to Nicaragua where we installed PACS at a major hospital, exchanged lectures with local radiology residents and initiated an ultrasound-based PQI project at a RAD-AID supported clinic. Since 2018, our efforts have extended to Kenya, where we have lead an imaging symposium on fetal imaging in a Nairobi teaching hospital. We have also supported surgical care in the remote area of Migori through partnership with Kenya Relief, where we are in the process of creating the only imaging center in the region. Currently, we are forming new partnerships focused on image-guided interventions in the developing world. Our chapter is also learning how to convert our department's outstanding resident lectures into a format that can be viewed by radiologists and trainees all over the globe.
Regardless of your personal interest in global radiology outreach, I hope you can appreciate that these achievements would not be possible at most institutions. Many colleagues can tell similar tales of their unique successes in informatics, resident wellness, and artificial intelligence to name just a few. The consistent support, drive for innovation and unwavering compassion of employees at all levels is what makes Henry Ford radiology not only an outstanding place to work but a department where no goal is out of reach.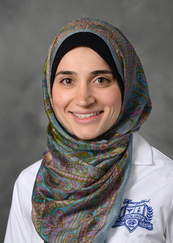 Hannan Saad, MD
Resident Class: 2020
Fellowship: Henry Ford Health, Neuroradiology
I chose to go into radiology because I wanted to convert my passion for anatomy and pathophysiology into mastery, and thereby triage patient care through accurate image interpretation. Being a native of Michigan with strong educational, family and emotional ties to the metro Detroit area, I knew I wanted to stay in the state for residency.
Rotating through the department of radiology at Henry Ford as a third year medical student, I was privy to not only the diverse and complex pathology of cases, but also the organized education and collegiality of the department; it was a perfectly balanced system that both challenged and nurtured residents. It was this positive experience as a medical student that led me to rank Henry Ford the #1 program on my residency match list.
At Henry Ford, resident education is a priority, which is underscored by our 100% boards pass rate. In addition to the teaching that goes on at the workstation by staff who are fellowship-trained in their respective specialties, there are daily case conferences and biweekly afternoon didactics which follow an organized schedule. Moreover, rotating medical students provide an opportunity for resident to student education. And for those looking to be more involved in student education, there is an opportunity to serve as a medical student coordinator at the end of your first radiology year, which is a rewarding experience. There are also opportunities to teach radiology technology students, as well as residents of other specialties should you feel so inclined.
Be it an interesting case or a journal article, there are many opportunities to do research at Henry Ford, and many of our well-published staff are easily approachable for mentorship and collaboration. As a mom of three children with limited time for research, I've still had my fair share of academic research projects, which have been accepted to local and regional conferences, as well as for journal publication.
For those passionate about the inner workings of radiology, there are avenues for involvement in quality improvement. For three years I served as the resident representative on the radiology quality and safety committee meetings, which allowed me to provide a resident perspective on image quality, connect with radiology administration, and even work to improve safety and education following sentinel events.
I think the most important thing the radiology program at Henry Ford has to offer is not the tailored education, complexity of cases, or 100% boards pass rate. It's the people. I have sincerely enjoyed working with each and every staff member throughout the department, and connect with them on deeper levels than just simply radiology. The work environment at Henry Ford is one of respect and friendship, where staff genuinely care about you and are invested in your well-being. Even high-level administrators are easily approachable and always looking to improve your experience.
I always knew that I wanted to start a family during residency, and the overwhelming support I've received throughout all three of my pregnancies while a resident has been very encouraging and uplifting. My husband has always referred to me as the "happiest resident on earth", and I think that's a testament to how fantastic a residency Henry Ford truly is – at Henry Ford, residents excel educationally and feel supported.
Current Residents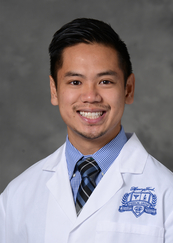 Phong Le, MD
Resident Class: 2021 (ESIR)
Medical School: The Lewis Katz School of Medicine at Temple University
Fellowship: University of Pennsylvania (Interventional Radiology)
As a graduate from The Lewis Katz School of Medicine at Temple University in Philadelphia, I knew that I wanted to pursue a residency in an urban area with an underserved population similar to that of Philadelphia. During the application process, I did not know much about Detroit or Henry Ford Hospital other than that they offered an ESIR program and had an established RAD-AID chapter. After matching at Henry Ford Hospital, I can confidently say that there is nowhere else I would have rather gone to for my Diagnostic Radiology Residency.
The program has far exceeded my expectations of what a Diagnostic Radiology Residency should be. Our faculty are nearly entirely fellowship trained and are truly passionate about teaching residents. The case-conference lectures are all staff run and do well to prepare our residents for the CORE exam. The spectrum of pathology that I have seen in Detroit is incredible and it's getting rare that I read about something that I haven't seen in real life. As an ESIR resident, my procedural experiences have been excellent which I attribute to the resident run style of the program.
After living in Philadelphia for 8 years, I had an easy transition to living in Midtown Detroit and have absolutely loved my time living in the city. I didn't know a single person living in Detroit prior to moving here but the large size and collegial atmosphere of the residency program has made it easy for me to become lifelong friends with my co-residents. I love being able to walk to all the city sports stadiums while still only being a quick 10 minute commute to the hospital. Not only have I personally seen the drastic changes in the city landscape with new bars, restaurants, and stores opening every month, but there have also been significant new additions to Henry Ford Hospital as well, including the Brigitte Harris Cancer Pavilion and the new Center for Athletic Medicine. Detroit offers not only city living but many residents with families find themselves living in the many surrounding suburbs.
I strongly believe that the training I have received as an ESIR resident at Henry Ford will prepare me for both my Independent IR Residency next year and future radiology career. As a senior and current chief resident, I highly recommend any medical students interested in radiology to consider Henry Ford Hospital.
Beatrice Knisely, MD
Resident Class: 2022
Medical School: Wayne State University School of Medicine
I am a current resident at Henry Ford Hospital and am extremely fortunate for this opportunity. During my residency interviews, it stood out to me how enthusiastic the Henry Ford Radiology residents were about their experiences in the program. Now, as a Henry Ford resident, it is clear to see why. Henry Ford residents are provided a well-rounded residency program that provides residents with an understanding of a wide range of modalities. The residency program provides informative lectures, and ample opportunity to participate in clinical research, all under the tutelage of fellowship-trained attendings. This program also allows residents to pass their knowledge on to future medical students through mentorship programs and resident-led lectures.
Henry Ford's emphasis on education was a big draw for me, personally, when selecting a residency program. As a lifelong tutor, formally and informally, education is very important to me. The Henry Ford Radiology Residency program heavily prioritizes the residents' roles as both the pupil and the instructor. This environment is supported by everyone within the radiology department, from the ancillary staff to the department chair. We have daily didactic lectures and case conferences that form a strong knowledge base and in-depth personal staff-out sessions that allow for a more detailed understanding. Through the mentorship programs at Henry Ford, residents are then able pass their knowledge on to potential applicants from several local medical schools.
For these reasons, Henry Ford has been the ideal training environment and I am confident that when I graduate, I will be well prepared for any future endeavor.
Elizabeth Dobben, MD
Resident Class: 2024
Medical School: Lafayette Center for Medical Education at Indiana University School of Medicine
After a year at Henry Ford, I cannot imagine having matched anywhere else for residency. I grew up and attended medical school in Indiana and knew I wanted to stay somewhere within the Midwest to be close to my family. I interviewed at many area programs, but after interviewing at Henry Ford and visiting the area, I knew it would be a great fit. The Henry Ford Radiology Residency offers the hands-on procedural opportunities of a smaller program, while having the volume and acuity of studies to match any academic center across the country. The attendings I have worked with to date have been eager to teach and interact with residents.
I especially enjoyed having an integrated intern year. Not only did I avoid the stress of having to move hospital systems after the first year of residency, I also had the opportunity to meet the senior residents and attendings early in my training. While adjusting to R1 year is still a steep learning curve, it has been made much less stressful by already having role models and friends to turn to for advice about my upcoming rotations and how to study. An integrated intern year also provided me the chance to build friendships with residents from other specialties, which has provided a wonderful support system.
Finally, Michigan summers are completely unmatched. Detroit offers amazing restaurants, the River Walk, and so many other amazing ways to spend time outside of the hospital.
I have loved my time at Henry Ford so far and would highly recommend it to anyone looking for a close- knit program that offers extensive procedural training and a huge diversity of high acuity cases.