Chairman, Department of Surgery: Scott A. Dulchavsky, M.D., PH.D.
Program Director: Rupen Shah, M.D.
Welcome to the Henry Ford Hospital Surgery Residency Program. We are dedicated to making our residents some of the best surgeons in the country. Our outstanding credentials, state-of-the-art facilities and unparalleled program will have you well on your way to becoming a leader in surgery.
Letter of introduction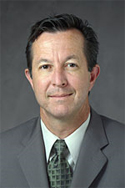 Thank you for your interest in surgical residency training at Henry Ford Hospital and Health system. The training environment at Henry Ford capitalizes on a large clinical volume, excellent faculty, and broad research capabilities to provide exceptional training opportunities in General Surgery. Many of our residents choose to pursue fellowship training; we have placed numerous graduates in prestigious fellowships throughout the country. Read more...
Diversity Statement
Our diversity is our strength. Our approach to diversity is to build a culture where our residents are embraced and celebrated in an inclusive work environment. We believe that the greatest accomplishments are achieved when diverse minds, experiences and cultures work together. Our commitment to that vision is enhanced by the diversity of our patients and community.
Follow Us