Vascular Neurology Fellowship
Program Director: Daniel Miller, M.D.
Interim Program Coordinator: LaTasha Jeter
The fellowship in Vascular Neurology is an ACGME-certified program which provides training in the management of patients with stroke and cerebrovascular disorders in the Department of Emergency Medicine, the Acute Stroke Unit, the Neurosciences ICU, stroke consultations throughout the Hospital, and in Outpatient Stroke Clinic. Close collaborations with interventional and diagnostic neuroradiology, neurosurgery, cardiology, hematology, rheumatology, and vascular surgery allow for a broad exposure to treatment options for stroke patients. This is a one-year program with the option of a second year available. We accept two fellows per year, fellowship applications are accepted through ERAS and the program will participate in the NRMP Match process.
Following completion of the program, the fellow is eligible to sit for the board certification examination in Vascular Neurology by the American Board of Psychiatry and Neurology (the American Board of Psychiatry and Neurology also requires that the applicant also has successfully passed the board examination in Neurology).
The schedule is flexible but, in general, clinical duties include:
5 months in the acute stroke unit
2 months in the neuro-ICU
1 month in neurorehabilitation
1 month in neuro-radiology
1 month in neurosonology
2 months of research/elective
The fellow also participates in stroke call (approximately one call per week and one weekend per month) and two half days of outpatient stroke clinic per week. The Vascular Neurology fellow is part of the Ford Acute Stroke Team (FAST), a 24/7 response team responsible for the administration of thrombolysis and acute stroke research protocols. In the outpatient stroke clinic, the fellow will learn comprehensive management strategies for stroke patients including medical management and lifestyle modification techniques. Approximately twice per month, the vascular neurology fellow can attend vascular neurosurgery clinics and see patients with cerebral aneurysms, arteriovenous malformations and other neurovascular problems in follow-up.
During the optional second year, the schedule is structured according to the fellow's needs and career goals. Emphasis is given on initiation and completion of clinical research projects. Henry Ford Hospital has state-of the art neurovascular imaging including MRI, MRA, MRS, CT, CTA, CT perfusion, carotid duplex, transcranial Doppler, SPECT, conventional angiography, and PET. The fellow receives training in the interpretation of these studies and should be able to review a sufficient number of studies in Neurosonology to allow for taking the certification examination by the American Society of Neuroimaging.
There are numerous research opportunities available including preclinical laboratory research, or clinical research on secondary stroke prevention, acute stroke, and stroke recovery and regeneration. One of the world's most prolific basic neuroscience laboratories with a special focus on stroke treatments is housed at Henry Ford. NIH-funded program project grants and several RO1 grant support innovative treatments for acute stroke and stroke recovery. Excellent opportunities for translational research are naturally available.
Program mission:
Henry Ford Healths Division of Stroke and Vascular Neurology consists of a dedicated team of physicians, allied health professionals and support staff that provide primary and consultative care to patients with neurovascular disorders in a tertiary care setting.
Our mission is to provide exceptional care to patients with vascular neurologic disease; participate in the education and development of Henry Ford Health fellows, residents, and medical students, and to advance clinical research in the vascular neurosciences.
Message from the program director: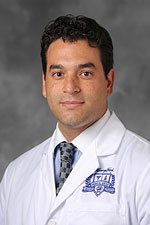 The Henry Ford Vascular Neurology Fellowship is a comprehensive program that prepares the trainee for independent practice in the field of Vascular Neurology. The program is a blend of hands-on clinical management, teaching, and research. The trainee will be exposed to a large volume of stroke patients (approximately 800 patients per year) and use state-of-the art technology and treatment for the management of these patients. Clinical exposure occurs in the inpatient and outpatient setting. Henry Ford Hospital is just one of a handful of hospitals in Michigan with board certified vascular neurologists who train other neurologists in this field of expertise. With seven specialists in this area, Henry Ford Hospital has the largest number of board-certified vascular neurology specialists in the state. Teaching staff have numerous publications in the field of stroke and participate in state and national committees devoted to the care of the stroke patient.