Family Medicine Residency Program
Program Director: Jeremy Fischer, D.O., FACOFP
Program highlights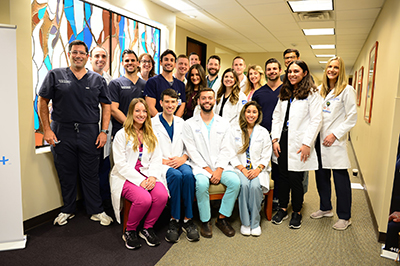 The Henry Ford Macomb Family Medicine Residency is a 3 year, ACGME accredited program that offers four residency positions per year.
The Family Medicine Resident Clinic is located in Clinton Township, and is affiliated with HFM Hospital, which serves the greater Macomb area. These facilities include a 361 inpatient beds, level II trauma center ED, new surgical center, and affiliated in-patient psychiatric facilities. Residents are exposed to diverse patient populations, training both in smaller community settings as well as tertiary education centers, including Henry Ford Main campus, Children's Hospital of Michigan, and Hutzel Women's Hospital.
Other program highlights include:
Dedicated continuity clinic located in close proximity to the hospital. High patient volume and acuity provide an excellent learning opportunity.
Monthly MSUCOM statewide campus system educational days
Regular procedure workshops
Residency research support provided by Henry Ford Macomb faculty.
Basic cardiac life support, advanced cardiac life support and pediatric advanced life support every two years
Weekly protected didactic sessions
Board review conference
Journal club
OMT workshop
Pharmacology review
One-on-one billing and coding review
Practice management and financial planning seminars
Family medicine morbidity and mortality case review
Mission statement:
The mission of the Henry Ford Macomb Family Medicine Residency program is to provide healthcare for all ages in the southeast Michigan community. The program focuses on high quality care and evidence based medicine to prepare residents for practice in an outpatient setting. Emphasis is placed on practice in patient-centered medical home and responsible use of medical resources. The program teaches Osteopathic principles and graduates will be proficient in Osteopathic family medicine.
Aims:
Residents will be able to demonstrate management of the full range of problems in family medicine. They will be able to use the electronic record, document appropriately, manage their communications with patients. They will be competent with the care of adults and children. They will be able to critically appraise medical evidence and use point of care resources that are evidence-based. Residents will be able to understand quality metrics and proper billing practices. Residents will demonstrate Osteopathic principles in patient care in both a holistic approach to the patient and manipulation.