Application Requirements
Preferred scores: (Passing on first attempt is highly preferred and will take precedence over those who have more than one attempt). You must pass USMLE/COMLEX Step 1, Step 2 CS and CK to be considered for ranking.

USMLE Step 1- 215
USMLE Step 2 CK- 220
COMLEX Step 1 – 500
COMLEX Step 2 CE-500

Graduation cut off year: No more than 3 years prior to the year of the Match
Henry Ford Macomb Hospital sponsors J1 visas
All IMGs must be ECFMG certified prior to the start of residency to ensure medical licensing by the State of Michigan
US clinical experience highly preferred
3 Letters of Recommendation (2 must be clinical)
We are unable to provide rotations for medical students from schools outside of the US. We do not offer any shadowing/observerships.
Resident Selection Process
All applicants must submit an application through ERAS and be eligible to participate in the NRMP match.


Applications must be received by November 30th. We will not review any applications received after this date.

The Program Director and Associate Program Director review and select applicants that will be invited to interview.
Interviews are conducted by the Program Director, the Associate Program Director and/or other core teaching faculty and current chief Internal Medicine residents.
Interviews for the 2023 Match will take place virtually from October-January.
The Program Director and Associate Program Director make recommendations for selection and ranking to the Department faculty.
The Match process will follow and uphold all of the NRMP guidelines.
If all available positions do not fill during the NRMP Match, they will be offered in the SOAP.
After the match results are released, the Program Director and Associate Program Director reports those who have matched into our program to the Graduate Medical Education Committee.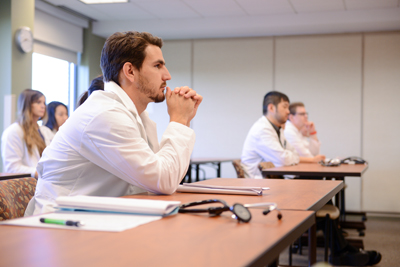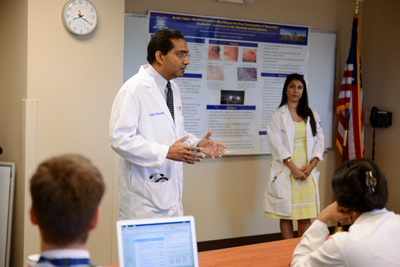 Starting Residency
All residents must sign the residency contract provided to them by their Medical Education Specialist within 10 days of the released Match results.
All residents must have a valid Educational Limited and Controlled Substance License in the State of Michigan on the first day of residency. A valid license must be maintained through the entire residency.

You must be able to clear a criminal background check and fingerprinting to be eligible for employment and a medical license

All applicants must have a valid BLS and ACLS certification on the first day of residency. A valid BLS and ACLS certification must be maintained through the entire residency.
Orientation is a vital step in the onboarding process and therefore, is a requirement before residency can start. Orientation dates begin mid-June and go until the start of residency. Those who match here are required to attend any and all orientation activities, no exceptions will be made to this so please plan accordingly. Failure to appear for residency orientation is considered a NRMP Match violation and could have serious consequences, including dismissal from the program.
Please note our Nicotine Policy, Flu Vaccine Policy, and Covid-19 Vaccine Policy

Henry Ford Health does not hire residents who use products containing nicotine. A nicotine test will be administered as part of the pre-employment health screen. Testing positive is a failure to meet the conditions of employment and considered a violation of the Henry Ford Health employment contract and NRMP match agreement. Applicants testing positive for nicotine will not be allowed to start their program.
Henry Ford employees who work in clinical and non-clinical positions are required to receive the Covid-19 vaccine and annual flu vaccine. This applies to all residents and fellows. Employees may only decline vaccination if they provide documentation of an acceptable medical or religious reason.